I'm a horrible father.
My oldest, as I may have mentioned, is studying Romeo and Juliet in school. Today while driving her to school we were discussing Shakespeare and I'd joked about the possibility of creating a "Name That Shakespeare" game along the lines of "Name That Tune."  You know, "I can name that Shakespeare play in 3 words!" sort of thing.  (More on that in a future post!)
To which she responds, "That would be impossible." Thinks about it and adds, "Well, I suppose some would be easy. Where art thou."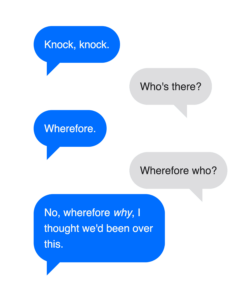 Not taking my eyes off the road I ask, "What's that one from?"
"Romeo and Juliet," she replies.
I immediately begin hitting the child.  "That's not even funny!" I yell in mock horror. Maybe it wasn't so mock.
Defending herself she retorts, "Why? What's wrong with that? Is that not the line?"
"It's wherefore art thou," I correct.
"Right," she says, "It means where are you."
I immediately begin hitting the child again.  "Where did I go wrong? When did I fail you? Of all the things I've taught you, how did you miss this?  This is like the line in the sand between people who understand Shakespeare and who don't.  It's the go-to inside joke among Shakespeare geeks.  If you google "Shakespeare knock knock jokes", you get this joke. I literally have a t-shirt with this joke written on it.  Knock knock."
"Who's there?"
"Wherefore."
"Wherefore who?"
"NO, WHEREFORE WHY! WE'VE BEEN OVER THIS!"
"I don't get it."
I didn't actually push her out of the car, or disown her.  I may have thought about one or the other. She goes on to tell me how she honestly thought (up to this point I'd hoped she was kidding) that Juliet was looking for Romeo in the bushes.  *sigh*  I had to explain how, from her point of view, she's never going to see the guy again, it was just two ships passing in the night. It's not like they said "Come out on your balcony, I'll meet you outside."
I just honestly don't understand how that went past her.  If you'd asked me I would have thought it was one of my most overdone jokes.  Surely they'd heard it a hundred times.  Shows what I know.  What else do I assume they know that they have no clue about?