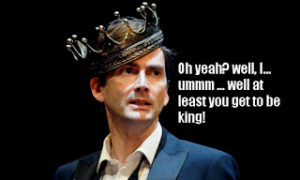 For some reason on the ride in to work today I was thinking about Sir Derek Jacobi.  That's not even a "the reason is not important," that's "No, seriously, I honestly can't remember."  I do remember thinking, if I had the chance to interview the man, what would I even say? I hate that fake, "I'm such a big fan I've seen all your movies you've changed my life" stuff. Other than a clip of his Hamlet I'm not sure how much else I could name.
But then walking to work, for a brief moment, I thought I saw Sir Patrick Stewart. Whether the former led to the latter, I have no idea.  It wasn't him, but it could have been one of those, "I saw a celebrity at a distance and I had the chance to yell something at him…" moments.  All I could think to yell would have been, "Why did you have Claudius shrug opposite David Tennant's Hamlet?"  It's always bothered me.  And I have no idea how I'd yell italics, but I could give it a shot.
I thought that would make a fun game.  Pick one of the modern Shakespeare gods – Sir Ian, Sir Patrick, Dame Judi, etc… You get the random opportunity to shout a single question at them.  Which celebrity and what's your question?
Don't throw away your shot!