A funny thing happened to me last week when I started selling my Shakespeare Geek tee shirts on Amazon.  Assuming this isn't your first visit to my humble little corner of the web you've probably heard me bust out my "Mercutio Drew First" joke, a crossover with the Star Wars "Han Shot First" meme that I actually thought of probably close to ten years ago at this point.
Although I've always had t-shirts with that slogan for sale via Zazzle, Cafepress, and other random "print your own" shops, over the last couple of weeks is when I got approved for Amazon Merchandise and saw an opportunity to scale up for real. Bigger audience, lower prices, better quality.
The shirt did well. I hang out on some forums dedicated to Amazon Merch and when I shared sales number people were saying, "Wow, how'd you do it?!"  I felt good about that.
Then I logged in one day and saw half a dozen other vendors selling a Mercutio Drew First shirt, with various vendor names ripping me off like Shakespeare Geek Vintage Tees or Shakespeare Geek Store.
My first reaction was incredulity. I knew this was a problem with Amazon Merch, I just never thought I'd be big enough to worry.
My second reaction was to fight back, jumping onto the forums and asking what my recourse was, writing to Amazon to protect my idea, and so on. Yeah, good luck with that.
My third reaction was to think, "Ok, well, it's over.  It was nice for a couple of weeks, I might as well pack up shop now. Everything I do will be stolen."
Then I got over myself.
This site started because I would see the occasional Shakespeare reference in the wild – a tattoo, a tv commercial, a random sitcom plot – and wanted a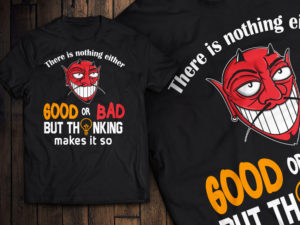 place to talk about them with other people who also recognized them and thought that it was cool.  By creating merchandise here with our own original content that was my way of contributing. How cool would it be to walk down the street one day and bump into somebody wearing merchandise with a slogan that you wrote in the first place?
These rip-off artists are just helping to spread the word.  Would I like all of the sales to come through my store?  Sure, of course.  But all I'm doing really is taking most of that money and folding it back into supporting the cause anyway.  So if half a dozen people selling a shirt means 6x as many people might see it?  I can live with that.  Honestly, they're not going to sell as many as I am, the audience for this kind of thing is pretty loyal to me. But we'll pretend that it scales evenly.  If anybody sees one of these shirts and goes googling for it, who are they going to find? They're going to find us.  And that, I'm totally ok with.
By the time this post is up you should see a new link at the top of the page, where I will track all of the authentic Shakespeare Geek tee shirts and merchandise.
Because of the way Amazon works I can't just put it all under a single brand, unfortunately. This means  "Shakespeare Geek" is me, "Shakespeare Geek Hamlet Tee Shirts" too, but "Shakespeare Geek Store" is not.  There's no way you, loyal readers, could tell the difference.
But by always coming through the new merchandise page you can trust that you're buying from the original creator. You're also supporting the mission of spreading Shakespeare in the world, not just adding a few buck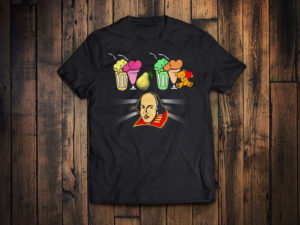 s to the pockets of the many rip-off artists hovering around other people's success because they don't have the imagination to do something of their own.  (Hey, just because I accept it, doesn't mean I have to like it!)
Thank you so much to the geeks out there who've purchased shirts and shown them off to family and friends. I greatly appreciate the support!  I will keep cranking out new and interesting original ideas that you can only get one place.
Shakespeare Geek Tee Shirts Available Here (And Only Here)
This is the only place to find real Shakespeare Geek tee shirts. Thank you as always for supporting the site!