Ian McKellen has said his King Lear, which is currently on at Chichester Festival Theatre, is probably his last big Shakespeare part.
http://www.bbc.com/news/entertainment-arts-41531398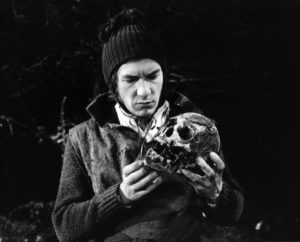 Sometimes we realize this when we wake up to discover that an entertainment idol has died – Robin Williams, David Bowie, Tom Petty.  You don't appreciate what you had until life tells you, "No more."
But sometimes you know what's coming, and I'm not sure if that's worse.  Sir Ian McKellen (and Sir Patrick Stewart and Dame Judi Dench and too many others to name) will not be around forever to bring the Shakespeare.  In the linked interview above Sir Ian gets realistic on us that he's "probably not really" got any more Shakespeare in him.  Sad day, but one that had to come eventually.
What's your favorite Sir Ian role?  Richard III, Macbeth, Lear?  In the image above a very young McKellen takes on Hamlet. I wish we had video of that!