I've never seen Sir Antony Hopkins play in King Lear, though I've always felt he'd be outstanding.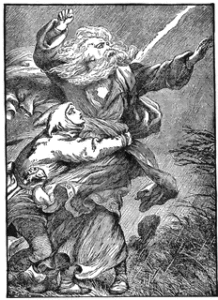 In fact, I've been watching the possibility closely for years.
Here's a post from 2006 about how he wanted to do a Lear movie one more time and then quit doing Shakespeare.
And here's a 2008 discussion about an "upcoming Lear" that was to star Hopkins, but I don't recall ever seeing anything else about it.
Well, I'm happy to report that it looks like it's finally happening!
Set in the fictional present, King Lear sees Hopkins as the eponymous ruler, presiding over a totalitarian military dictatorship in England. Emma Thompson stars as his oldest daughter Goneril. The ensemble also includes Emily Watson, who stars as his middle daughter, Regan, and Florence Pugh (Lacy Macbeth), who plays his youngest daughter Cordelia.
This is a BBC production, but the headline clearly says Amazon, so I'm unclear when (and whether) this will be available to Amazon Prime customers in the US.  But I'll be waiting!
Does anybody know whatever happened to that 2008 production? None of the actors (nor the director) named in that post appear to have any IMDB Shakespeare credits in that time frame.