Once upon a time, when my kids were still young, I searched the bookstore Shakespeare baby books, not expecting to find any, but still hopeful. Never did. Yeah, there was the brief "Baby Mozart / Baby Shakespeare" craze, but we don't speak of that.
So it was with very great pleasure that I agreed to review Donna Guthrie's "Flibbertigibbety Words".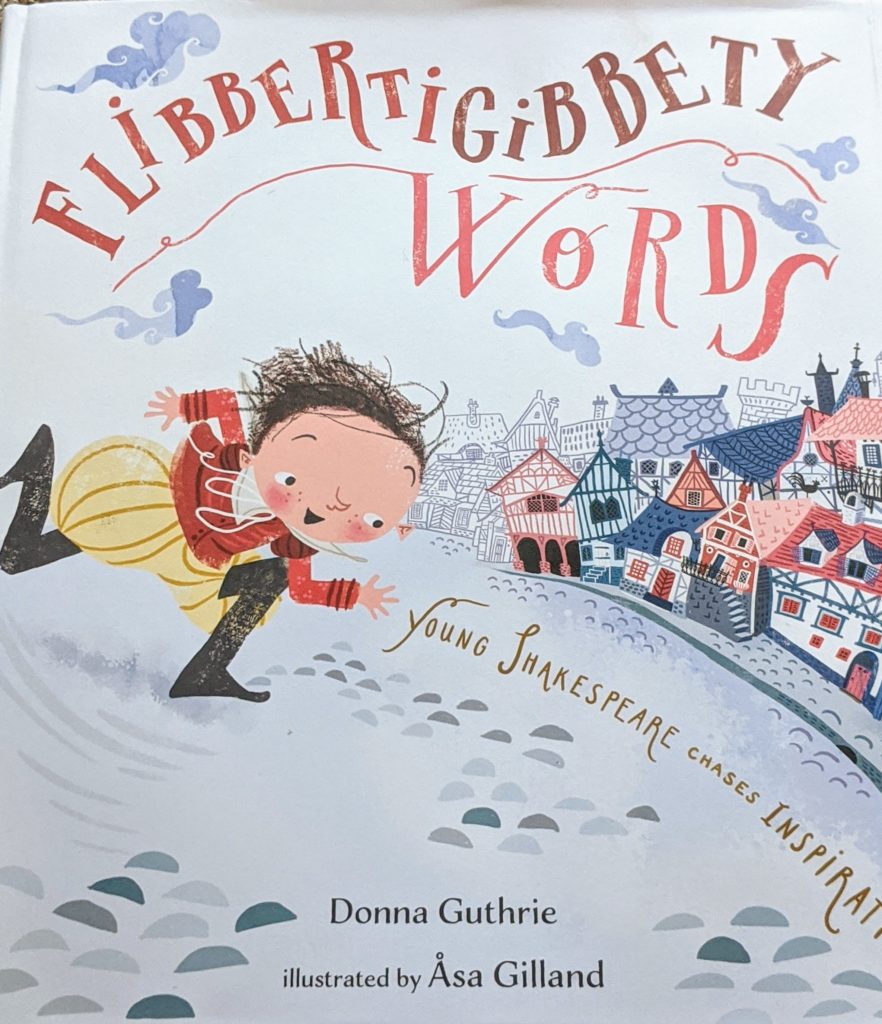 This is the story of one young William Shakespeare, who opens his window one morning and words ("To thine own self be true") just come flying in. Well, he thinks, if that's not just the coolest thing in the whole wide world. I must have those words. He starts chasing them, but they're slippery little devils, tumbling down the stairs and out the door. So begins the adventure of the story as he chases an ever growing string of words through town.
Every page is decorated in enough Shakespeare quotes to keep geeks like us happy. Over the years, when I have found books similar to this that claim to include Shakespeare's words, they usually don't go much beyond "Shall I compare thee to a summer's day" and "Wherefore art thou Romeo?" But here we've got "Boldness be my friend" and "Words without thoughts never to heaven go" and that's just on page 3.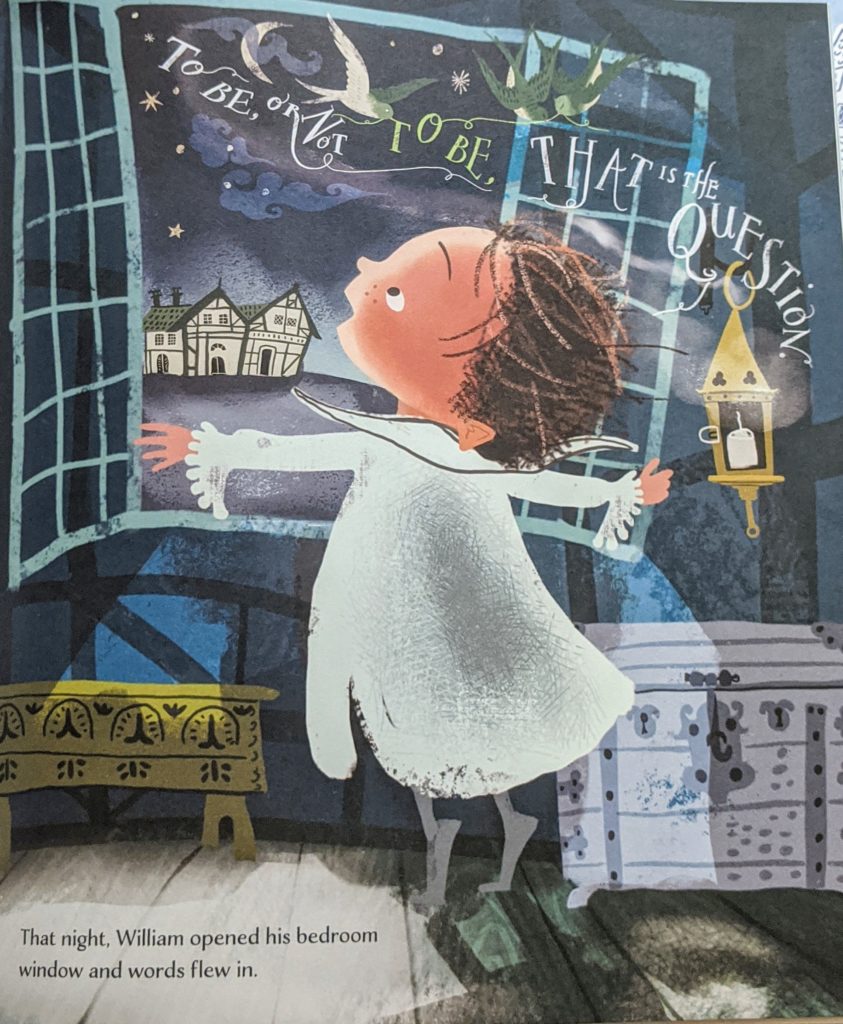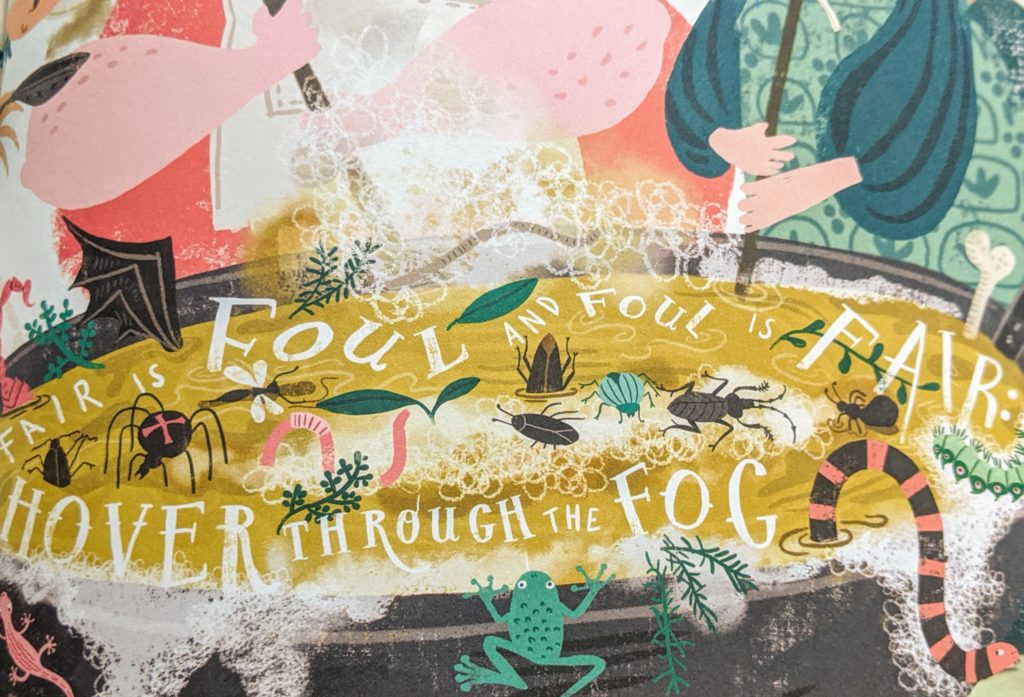 The illustrations are big and colorful, making the story obvious as young Shakespeare adventures through town, bumping into interesting new characters, while still leaving plenty of room for the wonderful words to decorate the pages. I have to wonder if the font may prove a challenge for children attempting to read, though. The story itself is told is standard text, but the decorative Shakespearean in the scenes is often scattered randomly, and most likely going to be read by an adult pointing out words with their finger to young readers. But hey, if that helps the kids jump more quickly into a world where the letters don't always have to be the same size, or in a straight horizontal line? That works, too!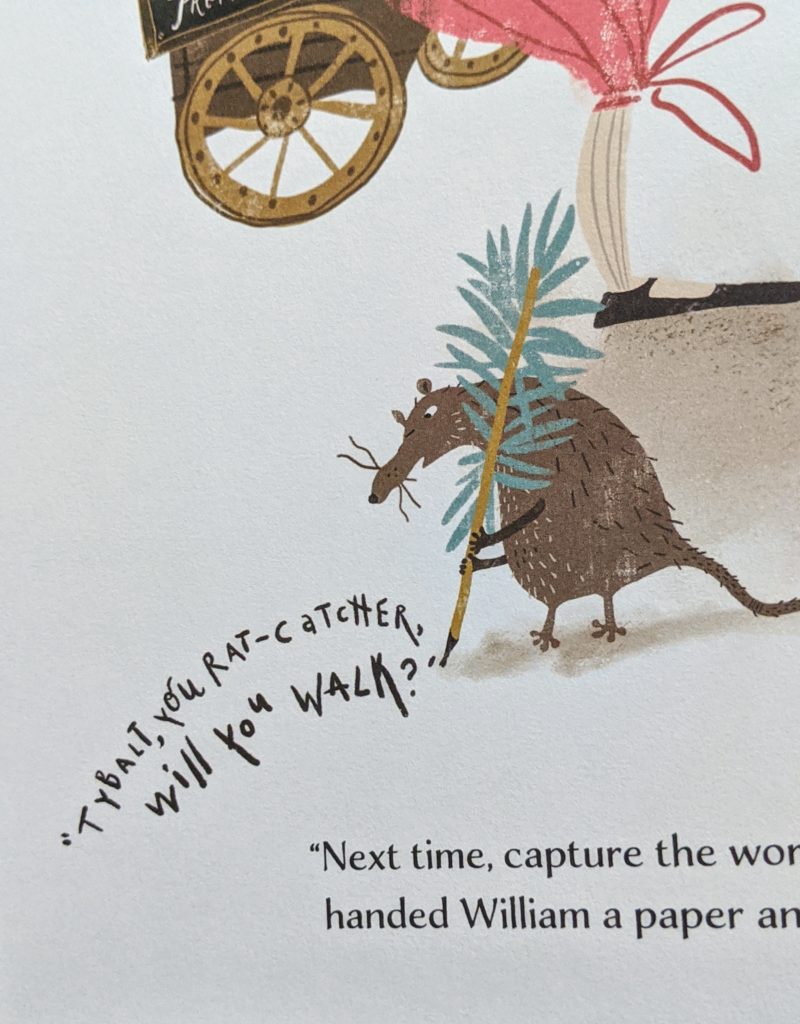 The author has also included a simple "life of William Shakespeare" bio page, as well as citations for all of the quotes included. I love that. I don't know the exact age that's going to be the audience for this book, it's been too long for me. But if the kids are old enough to wonder where the quotes came from? There's a great opportunity to do so, especially if the parent doesn't immediately recognize all of them.
Overall there's a word that came to me while I was reading this book, and that word is wistful. This book catapults me back in time sixteen years to those days of wandering the children's section of the bookstore with my wife, pregnant with our second and shopping for our first, me scanning the shelves for Shakespeare references like a child racing to the toy department. And, just like that child among those toys, I'd see a book like this, my eyes would go wide, I'd grab it and flip through it and hug it to my chest and wheel around to my wife with my biggest puppy dog eyes and "Please can we get this?" face. Then we'd head home and I'd read it to my daughter over and over again over the days and weeks to come (sorry Dr. Seuss!), pointing out the quotes, asking her to repeat them when she'd heard it enough times to memorize, following up with ridiculously advanced questions like "And what play is that from?" that she couldn't possibly answer (she's two years old for heaven's sake) but patiently waiting for the day when she does answer, because I know that Shakespeare is going to make her life better.
I, we, didn't get that. Because books like this one didn't exist yet. Now it does, and now others do get that experience. Lucky. To steal a phrase from my oldest daughter (via Schitt's Creek), "Love that for them."
Now I look forward to the future, when someday I'm a grandfather ("Grampy", in my family), and I get to open this book again and read, "One morning, William opened his window and the words flew in …"
I can't wait.