SCENE : The "Will" writer's room.  BILL sit lazily about, staring at the ceiling, drumming fingers, periodically crumbling paper and tossing into a wastebasket.  DAVE sits in a corner, reading.
DAVE: (looking up)  Hey, do you  know what swive means?
BILL:  Swive? Nope. Why?
DAVE: (showing book) Because it says in this Shakespeare glossary that it's another word for the F-bomb.
BILL:  So?
DAVE: (devious smile appearing) Don't you get it?  If we didn't know about it, neither will the censors!  So we can fill this week's script with stuff like "Shut up and swive me now" and "They can go swive themselves for all I care."
BILL: That's genius.
Last week was all about how many naked buttocks they could show, this week is apparently archaic swear words. I can't make this stuff up.  (For the record, my searches indicate that Shakespeare himself never used the word.)
"But what about the torture?" I hear you asking.  "I'm not here for the language and the nudity, I want to see blood spattering for no reason!"
Well then fear not, I have good news!  There's actually what I thought a funny scene where our resident psychopath (Topcliffe, is it?) is fishing.  "Ha!" I thought.  "Fishing.  Shakespeare. That's funny."  ("Shakespeare" is actually a very popular manufacturing line of fishing poles.)
Hahaha, it's all fun and games until somebody gets a fish hook embedded in his chest. Topcliffe then picks up the fishing rod (still attached, mind you) and starts walking away.  I think, nay hope, that he's going to now lead the poor soul away like a leash.  Nope.  Just goes ahead and rips it right out of him.
Grossed out yet? Later we'll see him actually hung from the ceiling by giant hooks in his back.
Sometimes I wonder why I watch this stuff.  Seriously.
There's almost no actual Shakespeare in this one.  He's riding on the popularity of Two Gents, but everybody keeps calling it a "tragicomedy" and saying how much they like the dog, and Will wants to be taken seriously.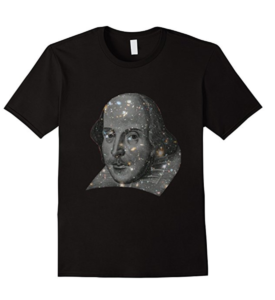 He's got some good lines about why he wants to write – to explore why we love and why we fight and what it means to be human. That's the good stuff, that's what I want to hear about.  But it's pretty brief.
Of course we drop a few random lines, Marlowe talks about how it's not his fault that his life's not going so great, the fault lies in his astrology. This of course is wide open for "The fault is not in our stars but in ourselves," or maybe " Additionally we meet Sir Walter Raleigh, who has been to America, and describes it as "Brave new world with such stuff in it."  You get the idea.