I recently talked myself into reading the biography of Robin Williams. It wasn't a question of whether I'd enjoy it. I loved the man's body of work. It was more a question of whether I was prepared for the inside story of his end.
But we're not there yet, I'm less than half way through. I want to talk about his Shakespeare.  I think anybody that followed the man knew he had some Shakespeare in him. He attended Julliard, for starters, and was known to drop Shakespeare references throughout his improvisations:
He also, of course, played Osric in Kenneth Branagh's Hamlet.
What I did not realize is that he *started* with Shakespeare. His Malvolio received rave reviews.  I did a little digging, and look what I found!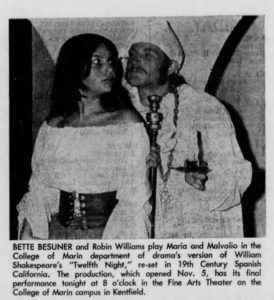 This image is from 1971. I only wish I could have found the complete review!  I did get a pointer to it, but it was behind a subscription paywall so I gave up on that idea.
But then! I found something even more exciting.  The book talks about a Western production of Taming of the Shrew that Williams was part of. I won't say "starred in" because it looks like he played Tranio, not exactly a major role. And guess what?  There's video! Unfortunately, there's no audio so all you really get is Robin Williams in a cowboy hat standing around in the background.
I'm about halfway through the book now, well past Mrs. Doubtfire and Dead Poets' Society, so I'm pretty sure I'm not going to see any more live Shakespeare credits. But I was very excited to learn about a few that I never knew!