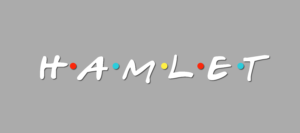 I admit it, this post is a complete advertisement for my latest merchandise. I think I honestly do a pretty reasonable job of not spamming you folks every time I put up a new t-shirt design, don't I?  So surely you won't begrudge me a Friday afternoon commercial.
When I'm working at night, chances are Netflix is on in the background. I'm one of those folks that just likes the noise. I would love to churn through all the new original shows they're making, but then I have to pay attention to what's on, rather than letting it just drone in the background. So instead I turn to old series that I  know I like, that have a lot of episodes (that will auto play, you see).  You see where I'm going with this.
The entire ten season run of Friends has graced my television so often I think I've memorized all the episodes.  But it wasn't until recently that the idea hit me … that opening font of theirs is absolutely iconic.  If you do "Skip Intro" you may never even notice it, but when you see it that classic scribble font with the little colored dots you're definitely thinking, "I recognize that!"
Shakespeare and Friends
I wasn't even sure Amazon would let these up, so I didn't go crazy with the "Look! It's Friends!" keywords.  But that doesn't mean I can't tell the real story here.  To get started I made a bunch of versions of Shakespeare's most iconic characters – Hamlet, Macbeth, Othello, Romeo, Juliet, Mercutio. All are available in both t-shirt and hoodie. The t-shirts are available in men's, women's and youth sizes (the hoodies are unisex). All the images below are clickable, where you can see the colors available for each.
What do you think? Did I miss your favorite character?  What do you think looks better, character names or play names? For those first couple it doesn't matter 🙂 but I soon ran out of 5-7 character single words. 🙂 Should I make Prospero and Malvolio and Viola and some other more lesser known characters?
Let me know your thoughts in the comments!