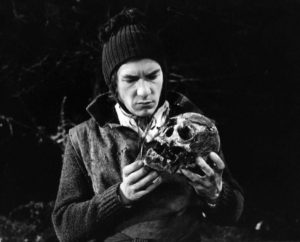 So at work the other day, my CEO asked which Hamlet was my favorite.  At the time, in context, I assumed that he meant film version, as in, something that other people could then go watch.  Not a live production that, if you missed it, telling somebody that it was your favorite didn't serve much purpose because they couldn't go take advantage of that information.
I decided to ask the question on Twitter.  I had no idea I'd get the kind of response.  Taking out the people who pretended not to understand the question (answering with the names of cozy little villages, or "Q1", etc..), I still got over 20 different Hamlets to choose from.  Not all of them are available on video, but that's been changing lately with live broadcasts of many.
For the record I'd not even heard several of these names, but was happy to discover them.  Some performances are even on YouTube in full!
One Vote
Papaa Essiedu (Royal Shakespeare Company, 2016)
Oscar Isaac (The Public Theatre, 2017)
Andrew Scott (Almeida Theatre, 2017)
Campbell Scott (2000)
Adrian Lester (2002 directed by Peter Brook)
Tom Hiddleston (2017, as directed by Kenneth Branagh)
Richard Chamberlain (Hallmark Hall of Fame, 1970)
Ruth Negga  (coming in late 2018)
Two Votes
Derek Jacobi (1980)
Mark Rylance (1989).
Coming in Second, with Four Votes
Kenneth Branagh (1996) comes in with 4 votes,
Our Winner, with Six Votes is …
David Tennant (RSC 2009)!
Did you get to vote?  Who is your pick?  For the record, I told me CEO Branagh was my choice because as I said I was limiting myself to film versions I thought he might have a chance of seeing if he wanted to. I wasn't going to give it to Mel Gibson or Ethan Hawke, the other two that leaped immediately to mind.  At the time I didn't even think of Tennant, but on reflection I think I'd still keep my choice as Branagh. I found Tennant's a little too … hyper?  OCD?  Can't remember the words I used at the time.  But then we start to get into a debate about whether we're talking about the movie as a whole, or about the character.  It's probably true that Tennant's Hamlet character was better than Branagh's, but I like Branagh's movie better as a whole.
(No love for Kevin Kline (1990), I notice.  I wonder if people simply never saw it?)