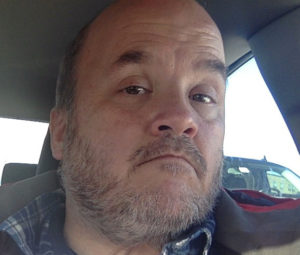 For No Shave November this year I did promise some update pictures, so here you go!
It's Thanksgiving morning (though you're no doubt seeing this on Friday), I'm in New England, and I'm waiting in the car before the big football game. It's going to be record breaking cold out there.
None of my kids play football, mind you. One of my girls is a cheerleader.  So I will be sitting in the stands, watching her stand on the sidelines.  Our team's not even really very good – I think I saw two wins this year.
All of this reminds me of a Shakespeare beard reference:
…you are now sailed into the north of my
lady's opinion; where you will hang like an icicle
on a Dutchman's beard, unless you do redeem it by
some laudable attempt either of valour or policy.
This one's from Twelfth Night. One of Shakespeare's better similes (…pause to recall high school English….tries to remember whether it is a simile or metaphor that uses like or as …. going with simile).
<time passes>
Ok, I spent about 15 minutes in the stands watching my daughter cheer and now I'm back in the car with a newfound appreciation for Dutchmen. Still not sure I've got icicles on my beard but man, those metal bleachers are cold. At least our team scored first.
So where were we?  Ah yes icicles in Dutchmen's beards. I'm not completely sure what the quote means – is an icicle in a Dutchmen's beard something that he's just so used to that he ignores it? Or is it an annoying thing that he wishes to get rid of?  I take "sailed north" to mean "You're gone, you're out of her thoughts now until you go something to get back into them."
Since Bardfilm sent me an article on the topic, I learned that it's actually a reference to something specific, not just one of those hyperbolic hypotheticals, like "colder than various parts of a witch's anatomy."
For, the expedition of Bardendsz and Heemskerck which spent the winter of 1596/97 in the Arctic Circle appears to have appealed so strongly to the English imagination that references occur over a period of many years.
(Bardfilm, can you help me give proper credit for that quote?  Even if I copy down random words that look like the right names I'm sure to get the format wrong.)
I still don't fully understand the context (the article goes into a discussion of scientific discovery dating back to Galileo and the cuts over to Hamlet, but I didn't make the connection back to Twelfth Night). I'm guessing that it means, "When these dudes decided to sail north, everybody thought that's it, they're done, they're never coming back."  Then they actually did something important or learned something important, so when they returned those same people were all, "Dude, that was awesome."
To my ear it sounds like, with a little shuffling of words, that "icicle in a Dutchman's beard" could be looked at like a trophy.  I imagine these guys, who everybody thought as good as dead from their own stupidity, suddenly bursting into the local tavern, beards all full of icicles, making it more like a trophy of an important journey well taken.
Maybe not my finest analysis but did I not mention I'm sitting in my car in the parking lot? I'm lucky I've got wifi.
Speaking of beards, I'm trying to be part of No Shave November this year to raise some money for cancer prevention awareness.  This year I'm celebrating the holidays with three relatives in various stages of their own personal cancer battles. I hope none of you have to experience that.  Please consider a donation if you haven't already.  Thanks as always for your continued support!