I know the search engine optimization (SEO) game is an ongoing battle for Google to stay one step ahead of everybody, but this is getting ridiculous.  This story only has a little Shakespeare but I couldn't pass it up.
I think I've mentioned in the past that I have a book channel of sorts at my day job.  We have a book club that does the traditional "one book a month that we vote on" type of thing, but because of the amount I read, I have my own channel where I just brain dump book review after book review.  Last year I think I read 70 books? Something like that.
Anyway, just this morning I'd finished writing up Perdido Street Station by Chia Miéville, and made a comment about the author's vocabulary:
I read a review that said "the author writes like he swallowed a thesaurus" and had a laugh because that's quite true. Some words are just so out of the ordinary that they leap out of the page and yell "Remember when this word was on a vocabulary quiz back in high school!" I haven't heard "palimpsest" in years, but over the last couple of weeks of reading this one he used it probably 4 or 5 times.
Later that day I was talking to Bardfilm about interpretations of Ophelia (doesn't everybody do that?) and I learned something, so I had reason to google "olivier's ophelia" – as in Sir Laurence Olivier's interpretation of a particular scene with Ophelia.  Here's what google gave back: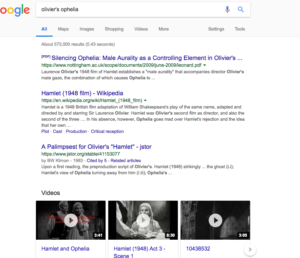 Note the third result returned, if you're not getting it.
TELL ME THAT'S NOT WEIRD.
If it turns out that Google is actually ordering search results based on the fact that I searched "palimpsest" earlier that day (once, to confirm the dictionary definition), then I just give up trying to win the SEO game.  That's crazy.
Somebody else search "olivier's ophelia" for me and tell me if palimpsest shows up, or it was just for me?
This month's posts are sponsored by No Shave November. To help raise cancer prevention awareness, and some money along the way, all proceeds from this month's advertising, merchandise and book sales are being donated.  If you'd like to support the site by supporting the cause, please consider visiting my personal fundraising page linked above, where you can make a direct donation.