Galt McDermott, composer of HAIR and Two Gentlemen of Verona, has passed away. As we like to do here on the blog, let's take a moment to appreciate and celebrate the man's contribution to Shakespeare.
Forget about the obvious for a minute. I mean, come on, the man wrote a musical Two Gentlemen of Verona that won the Tony for Best Musical in 1971 (beating out Grease).
If you've only ever known HAIR as a "tribal love rock musical," then you haven't been listening closely enough.  One song is entirely Hamlet's "What a piece of work is man" speech:

(The song isn't in the movie, you either need to know the soundtrack, or see the live show.)
My favorite, though, is the big finale number, typically known as "The Rest Is Silence / Let The Sunshine In".  The Hamlet reference is right there for everybody to see … but if you listening very closely, the background singers are on a whole different play:
Eyes look your last
Arms take your last embrace
And lips oh you the doors
Of breath… seal with
A righteous kiss
Seal with a righteous kiss
The rest is silence
That'd be Romeo and Juliet.  The hippies are layering one Shakespeare tragedy on top of another.  Which then segues seamlessly into the big celebration that is Let The Sunshine In.
Ready for the best part of this story?  My middle daughter is really into her vinyl (album) collection right now.  She's a huge fan of musicals, but she's also into the classic rock that I've introduced her to.  I'd forgotten, until today, that for my birthday a number of years ago a friend had presented me with a framed HAIR album.  It's been sitting in my office ever since.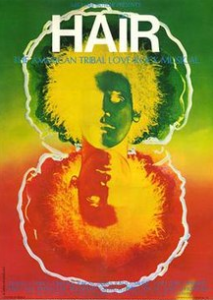 So I called my daughter from work and said, "You want to go on an adventure? There's treasure to be found." She was up for the challenge. I texted her the bright orange and green picture of the cover and said, "Go find this picture."  She found it.  I said, "Open it."
"It's a record!" she squealed.  "It's HAIR.  Can I play it?"
"Of course," I told her. "That's the treasure.  It's my favorite."
"I know," she replied.
"And it's very special today, because Galt McDermott, the man who wrote it?  He died."
"Oh."
"So I want you to have that.  I want you to play it, loud, and when I get home tonight I want to listen to it with you."
"I'll do that right now. I'll wake people up."
"Perfect."
Flights of angels sing thee to thy rest, Mr. McDermott.  For others I might say "The rest is silence" here, but you brought too much music into the world, so we're going to play you out with much volume and celebration.
Let the sunshine in!