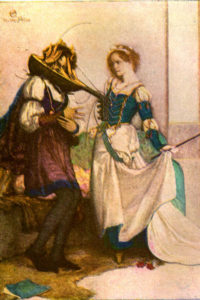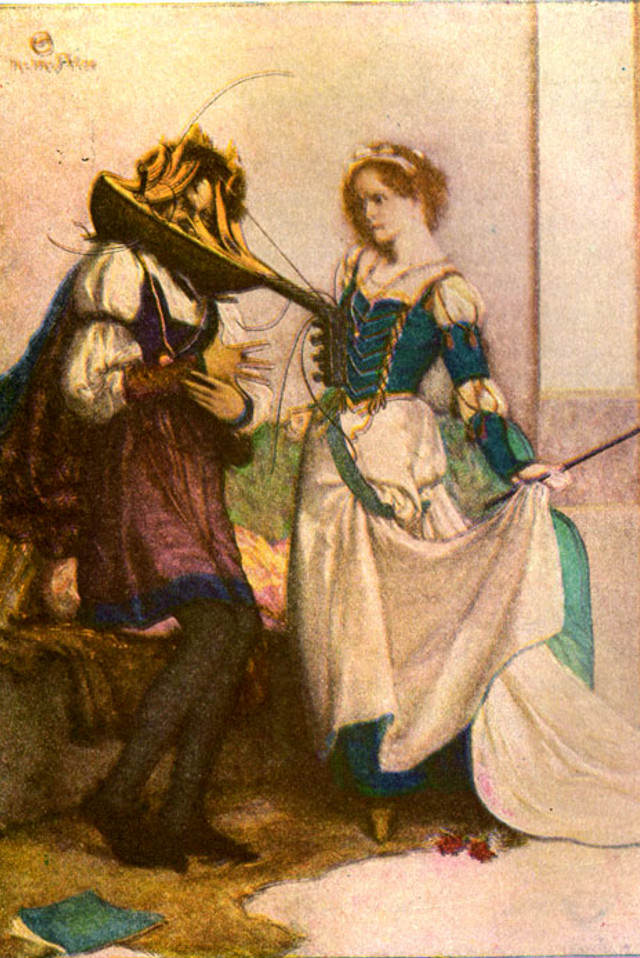 My daughter's in an honest to goodness 100% full-time Shakespeare class now.  It's been a long time coming.  They're starting right out with Taming of the Shrew, and already she's lost.
"I have to annotate the Induction," she tells me.
I'd completely forgotten about the Induction.  In all the times I've told them the story, I don't think I'd ever mentioned it.
"Oh yeah," I reply.  "So there's this dude, Christopher Sly, who is the drunk at the local bar.  It starts out with him arguing with the hostess about breaking some glasses, then he promptly passes out. A lord comes back from the hunt, sees him sleeping in the street, and says, 'Hey, you know what would be fun? Let's take him home and dress him in my clothes and tell him he's actually the lord of the house.' Have you ever heard the term gaslighting?  They totally gaslight him.  Anyway, he's not really buying it, until they tell him he's married, so his first reaction is to say Great! Wife? Let's go to bed!"
"Oh, charming."
"Exactly.  They talk him out of it, though. Meanwhile, there are these roving players who run into the original lord and ask if he wants to see a show, so he sends them over to his house to put a show on for Christopher Sly.  That show is Taming of the Shrew.  And, then, basically, Christopher Sly is never heard from again.  Well, he comes back briefly after the first scene or something, but that's about it. You're probably going to get tested on why he wrote it, and that's a good question. There's a variety of theories.  He didn't write like that for any other play."
"Yeah, well," she says, flipping through her copy, "I didn't get any of that from this." Reading, "I'll feeze you in faith? A pair of stocks you rogue?" She pronounces it "rouge," like makeup. "How am I supposed to get from that that he's arguing with the lady at the bar?"
Slowly but surely she works her way through the induction, which she first thinks goes 20 pages until I insist that she read it again and she realizes that every other page is vocabulary, so it's only 10 pages of content.
So today at dinner she fills me in on how well she fared on that assignment.
"So it turns out," she says, "that while I was out of class one day last week, she gave out this packet that was an introduction to the play. We were supposed to annotate THAT!"