For years, whenever I brag about my kids' connection to Shakespeare, I've said that my son saw his first production of The Tempest while he was still in his stroller.
This weekend my daughter was going through a box of pictures and held one up, asking, "Who is this?"  I recognized the picture immediately as she had it tucked into her dressing table mirror for years.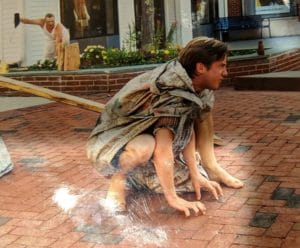 Sorry for the quality, it's literally a picture of a picture.  The guy in the nylon mask in the background isn't about to rob us all, he was one of the spirits roaming the set and making noises.  This outdoor production was literally in the middle of a strip mall and people occasionally just walked right through the set.  Who cares, I loved it.  Practically guerilla Shakespeare.
"That's…"
"…Caliban," I hear my wife's voice behind me.
I was momentarily speechless.  "…Caliban.  Yes.  Really?  You remember that?"
My wife seems to think it's no big deal.  "The Tempest.  We went down the Cape."  For my part, whenever a beautiful woman gets one of my Shakespeare references my first reaction is almost always, "Oh, I've got to marry you."  Lucky for me this time! 🙂
"Sorry," I say to my daughter, regaining my composure.  "Just falling in love with your mother all over again.  That was the first production that we were invited to.  One of my social media followers invited me to come and we hung out with the cast afterward.  Your brother kept freaking out about Caliban, pointing and yelling, "Monster!""  I flip the picture over.  It is dated 2004 — two years before my son was born  "Whoa.  Your brother wasn't even born when we went?  I've been telling that story wrong all these years?  I guess it was you in the stroller."
My daughter considers the picture.  She notes the month.  "My birthday's in August.  I wasn't born yet for this picture either."
I was completely flabbergasted.  All these years my memory was of taking three children to this production, and I only had one child at the time?  Unbelievable.
I had to share that story with everybody.  Ben Berry, now the artistic director of Peregrine Theatre Ensemble in Provincetown, MA originally extended the invitation (but that is not him in the picture).  I wonder if he's still reading and if he remembers us?  Hi Ben!