We're baaaaacccckkk!
I had a killer streak going for CommShakes shows. Until recently I'd been to something like 14 of their shows. Last year was off for everybody, and the year before that I missed it because my mom was sick, so it's been two years off. I was looking forward to a return with The Tempest, my favorite, which I've started referring to as "our family play" because my children know it so well. I don't take the kids to many productions – they went to Romeo and Juliet a few years back, and of course, they'd be coming to The Tempest.
We started out unfortunately on a poor note, as we arrived to discover there were no chairs for us. This is a free, outdoor production where you claim your space by putting down your blanket, bring a picnic, what have you. But you can normally rent chairs, which we've always done – it's an easy way to contribute money to the cause. This year they changed that, requiring that you get chairs in advance, and due to a poorly designed mobile website I didn't get that memo. So, after finding no help among the volunteers to remedy the situation, I spent the whole production trying to figure out how to get comfortable on the ground. I probably would have ended up with a more charitable review if that all hadn't happened.
Stuff I Loved
Loved the opening. The whole cast comes out, just stands there. Breathing. Calm. Tranquility. Get the audience settled down and paying attention. Prospero, in the center, raises his staff over his head and slams it onto the ground. BOOM, storm. Chaos. Waves. Thunder. Screaming. Actors, including a not yet introduced Ariel, circling the stage like a tornado. And then, when the time is right? Prospero lifts his staff, and the storm is over. Nice.
Along those same lines, loved the special effects. You can only do so much with an outside production like this, and it being such a magic heavy show doesn't help. But they did a great job with the simple stuff – a hand gesture from Prospero would immediately freeze a character in his tracks, or kill the lights, or summon thunder – but also with some more prop-oriented symbolic ideas, like Ariel attaching a red ribbon to Ferdinand and tugging him toward Miranda.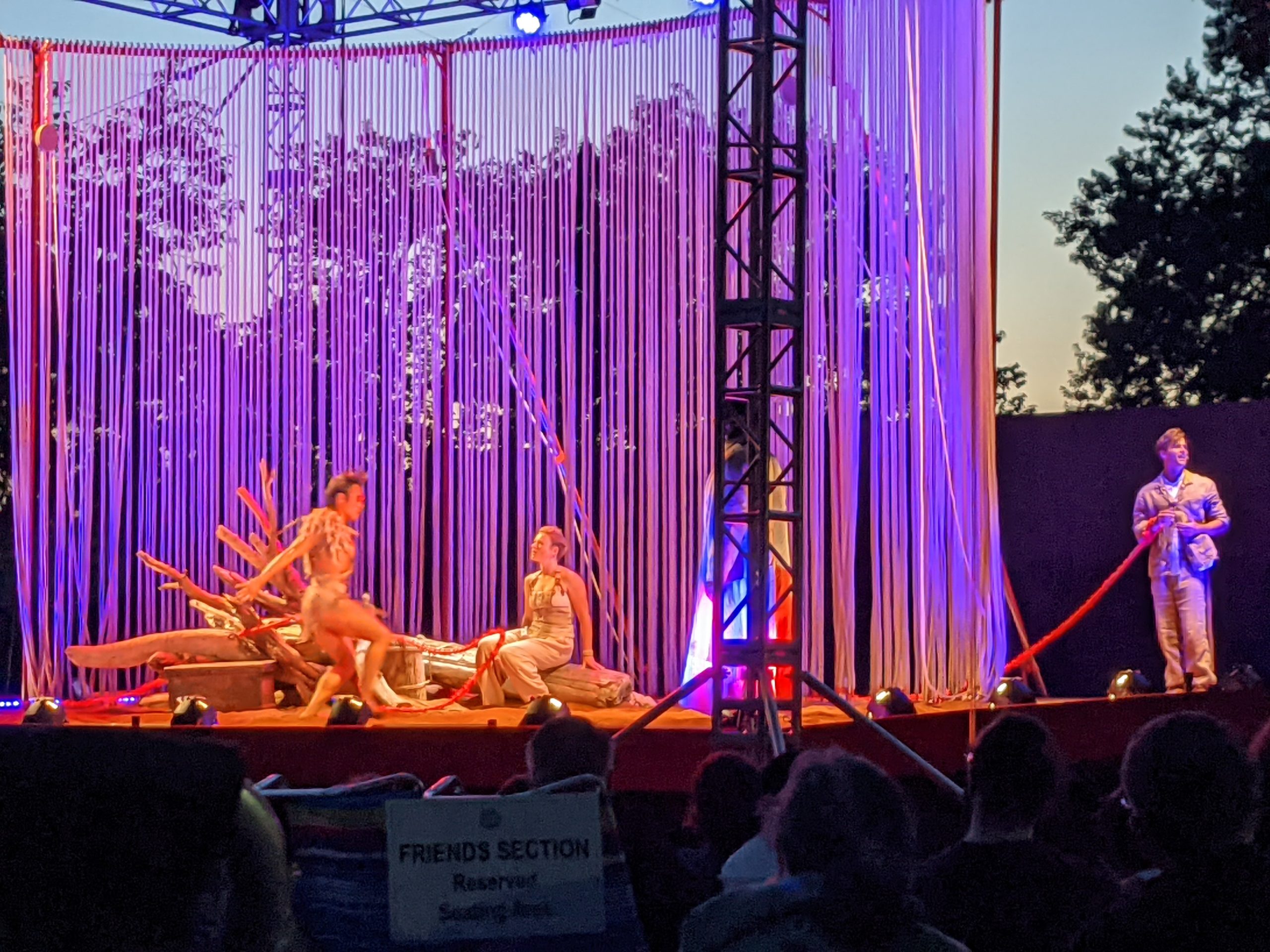 Love love loved their Caliban. Best part of the show for me. When he's introduced he comes running at Prospero to attack, and we see that he is tied down by one leg. He looks like a vicious dog. And he's got no cower in him, let me tell you. Standing there at the length of his rope, hopping on one foot, he's swinging his arms and hurling sand and casting his own curses in Prospero's direction. Great stuff. Later, after he meets up with Stephano and Trinculo, he balances the drunken comedy with a very believable "Guys, you're not really getting me – if you don't focus on the mission and kill Prospero when you have the chance it is going to go *very bad for us*." Despite showing almost no fear in the opening scene, he's got plenty of fear.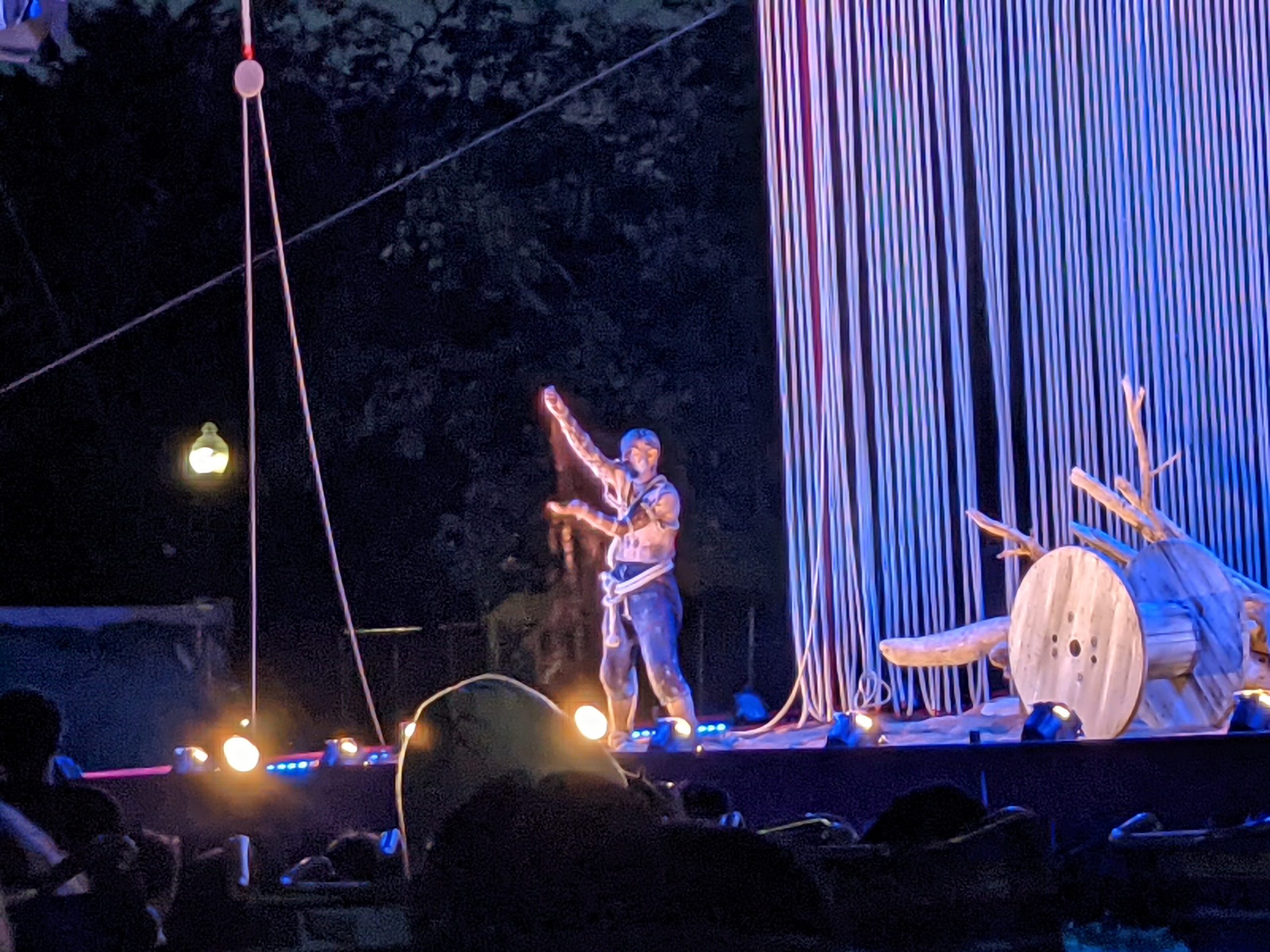 Loved the comedy. I'm not generally a huge fan of the "play it over the top so the audience gets it" kind of stuff, but I understand the necessity for it. Miranda was a big hit, really playing up the "man crazy" aspect of the teenage girl who suddenly realizes just how many people there are in this brave new world. Later when Stephano and Trinculo arrive they just knock it out of the park. I could watch the Stephano/Trinculo/Caliban show like a tv series.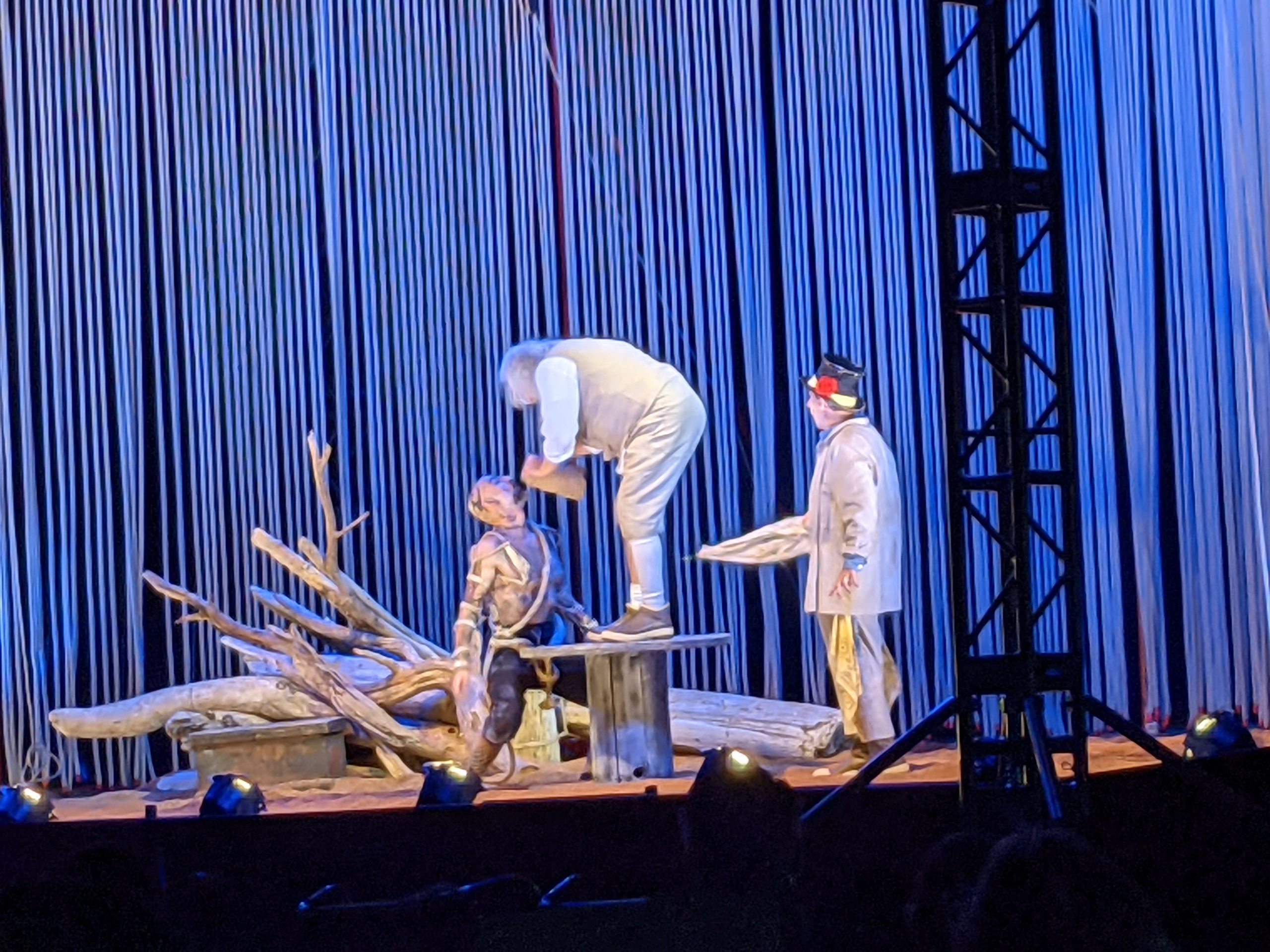 Stuff I Didn't Love
Unfortunately, what I saw as a very uneven Prospero. Personally, I like a bit of a scary Prospero who runs his island the way he wants it, and takes no back talk. After all, this is a father who has done nothing but protect his daughter (and plot his revenge!) for twelve years. He doesn't have time to relax. What I got was a father getting walked on by his daughter (during the first "pluck my garment from me" moment, she just walks away, leaving him to chase her). He then starts crying while explaining their back story. Huh?
I'm trying to read this in the context of "the father of the bride who cries at the wedding." Prospero knows how this story plays out. He knows that every interaction with his daughter is part of this last chapter. He's sad. I can kind of get behind that. Not usually how I see it, but I don't think it's necessarily wrong.
But when he's not crying he's screaming at everybody. He screams the "Our revels now are ended" bit? I don't think I understood what they were going for, there. I tried to explain it to my wife and kids something like this: "This is like his wedding present to Miranda and Ferdinand. He's bringing out all the stops, he's literally summoned down the goddesses for their blessing. He's showing the full power of his art, and he's happy to be in the moment. But then he's broken from that trance by the realization that he still has to deal with everything else that's going on, and he's angry about it." That could be complete BS from what the director/actor intended, but it's how I figured to read it.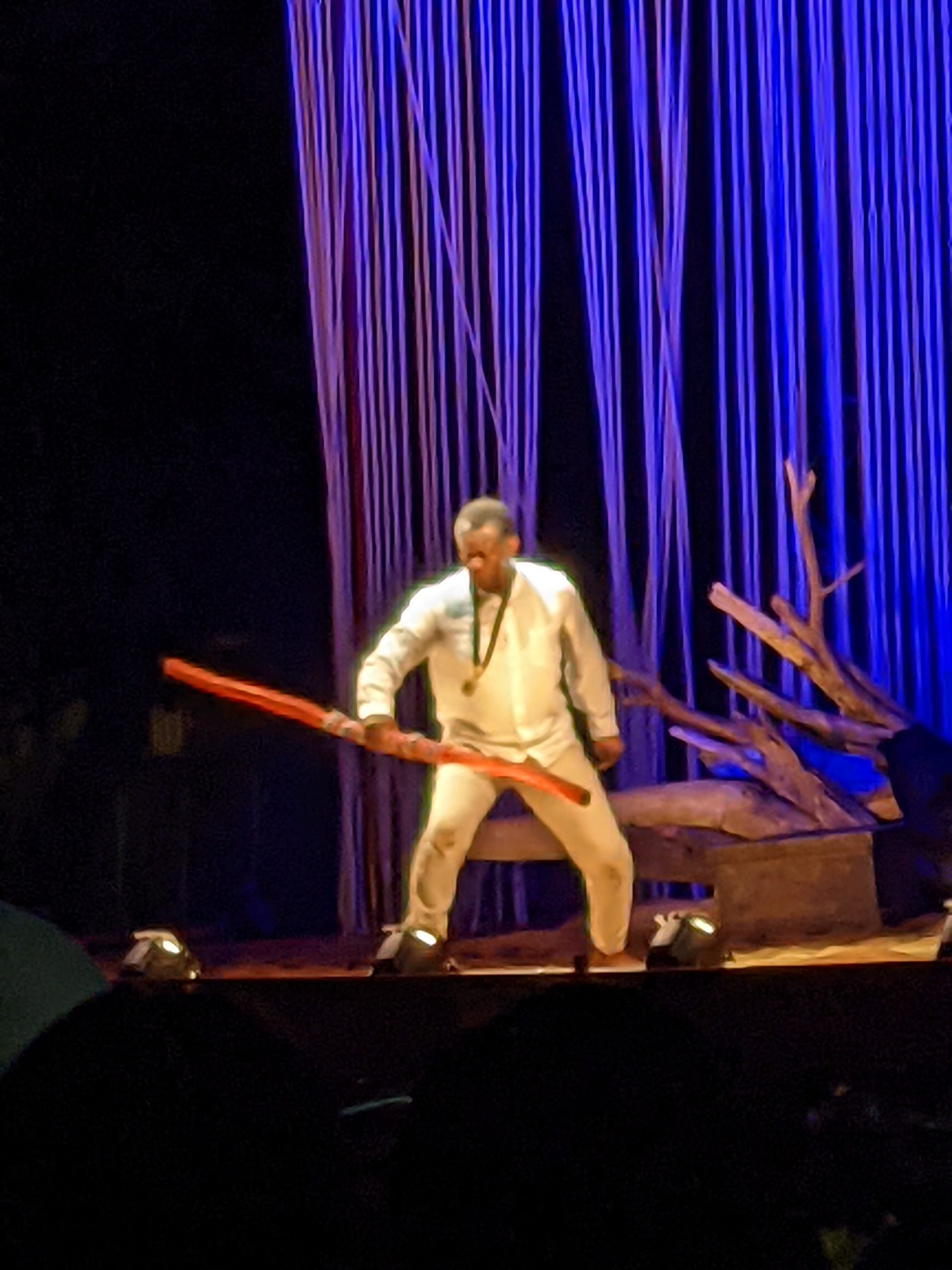 Other Things
Lot of stuff just kind of ends up in the middle. Like Ariel. Ariel here is a dancer. He ballets his way around the various scenes. <shrug> Ok, I guess? I didn't get any connection. I told the kids on the walk back to the car, "Ariel's got this great opportunity to play with the relationship to Prospero. Do they love each other? Or is it resent? Why does he keep asking, and complaining?" I've seen productions where the minute Prospero says you're free, Ariel's gone without turning his head, and ones where he goes give a last look back. I don't feel like any attention was paid to Ariel's freedom here, he just kind of left.
The music. Parts were good — somehow they made the "Caliban ban ban" song a real toe tapper. But in the beginning, with the "Full fathom five" bits? Their version of Ariel working with the other spirits on the island involved some singing women coming through the back of the stage who looked exactly like the women who hop down off the Grecian urn in Disney's animated Hercules movie. Once I had that image in my head I couldn't shake it, unfortunately.
The rest of the cast? If a scene didn't involve Prospero, Caliban or Miranda, it just didn't rise to the same level. They aren't the stars, true. Their scenes are mostly about plot. But I don't know if it was the delivery, or the blocking, or just the sound system, but my family spent most of this time "We're lost, what's happening?" Antonio in particular I felt was miscast. Maybe it's because I recognized him from previous clown roles, but I was trying to sell him to my kids as, "Ok, this guy's a real bastard, he's trying to get Sebastian to kill the king and he doesn't think twice about killing the only witness," and I just wasn't feeling it.
Conclusion
Overall? It's Shakespeare under the stars, it's The Tempest, and I don't care if I had to stand through the whole thing, I'm going to watch it and I'm going to look for parts I love. If I was still in my bachelor days I'd probably go back and see it three times, looking for different things every time. Go see these things, I'm sure your town or one near you has similar. The world is made a better place by hearing Shakespeare spoken into the universe. I look forward to seeing what I can be a part of next year.