I have been writing about Shakespeare on this site for literally my children's entire lives. If you go back far enough you'll find the sonnet I wrote for my daughter when she was born. Over the years whenever my love for my children crossed over with my love for Shakespeare, "geeklet stories" were born. The kids are off to college now so the precocious nature of the stories has waned quite a bit, but my desire to share them with the world never will.
Last week I'm driving my daughter home from college when she says, "Next week they're showing Falstaff at school."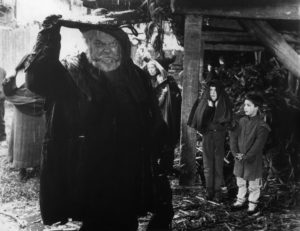 "See it," I say, barely letting her finish the sentence. "That's the other name for Orson Welles' Chimes At Midnight, arguably one of the best Shakespeare adaptations ever put to film. Just last week I was talking about it with a coworker who asked for recommendations about Shakespeare movies and I told him that one. The fun thing is that he's not a Shakespeare fan, he's a movie fan, so it's a good test because when you like a Shakespeare movie because it's a movie, without even knowing the Shakespeare, you've got something special. Absolutely make sure you get the opportunity to see it if they're showing it."
"Did he like it?"
"He loved it. Came back into the office raving about it. You kids have seen parts of it, it's the one with that famous I know thee not, old man speech I've shown you. One of my favorite Shakespeare scenes of all time."
While I was babbling she was looking at her phone, as teenagers tend to do when their parents talk. "It says here it's by a guy named Verdi."
Sad face. "Oh. That's the opera. Entirely different thing, ignore everything I just said."
I know it's not "entirely" a different thing, it's still about the same Shakespeare character, and I did explain that.