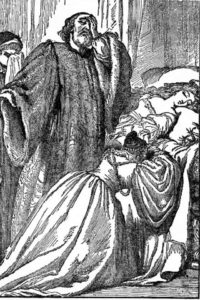 Here's a simple game. Pick a play.  Now pretend you're doing a production where the gimmick is that it's told from a different character's point of view than normal. Which play do you pick, which character and how does the play change?
In most cases, this is going to create a much shorter play, because the character you pick will often have less stage time than the stars.
Maybe we do The Tempest told from the perspective of King Alonso?  Coming home from a wedding he's caught in a storm, shipwrecked on an island, his son drowned. Suddenly he's standing face to face with Prospero, who he's thought dead for the past fifteen years.
Or how about King Lear from Fool's point of view? That could be interesting.  Lot of different ways to interpret just how much Fool knows.
Twelfth Night from Malvolio's POV?
Romeo and Juliet as seen by Lord Capulet? That could be interesting. There's an almost fight scene, there's him getting fined by the Prince, there's a wedding to plan, a big dance party, an argument with his daughter, the death of Tybalt, the death of Juliet…
Winter's Tale from Hermione's point of view would make a funny comic short. Gets accused of adultery by her husband, goes to live with her friend who promises to fix everything. Cut to twelve years later when she says, "ok, he's coming. Pretend you're a statue."
Who else?