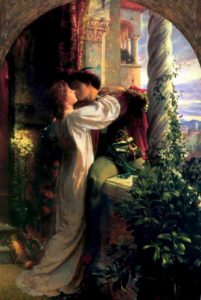 I'm not talking about actors who memorize as part of their job, or geeks who memorize just by experiencing the same passages over and over again.  I'm talking about the legions of school-age children who stop by, having been tasked with memorizing the balcony scene or a sonnet or even a passage of their choice, just for the sake of memorizing it.
As I work my way through Playing Shakespeare I'm becoming a convert to the "there are clues in the text about how Shakespeare wanted you to play it" school.  Why is this word emphasized while this one is not? Why is there a comma here, or a line break? When do we breathe, and what does that mean? I wonder, outside of theatre school, does any teacher bother mentioning any of that to the students when assign the memorize assignment?  Or, to the hapless pupil, is it all just a stream of words on the page?
What I fear is that even after memorizing a passage, if you asked most students what it means they'd say "I have no idea."  Maybe, hopefully, I'm wrong.  But I know that I listen to my children learn how to read and it's very important to work on the comprehension part, because it is not just a given.  It is quite possible to read a stream of words and then come to the end with no understanding at all of what happened.  I can totally see that happening with Shakespeare.
So instead, what if we made students act it out? What if instead of reciting the balcony scene just to prove you can, what if your homework was to actually become Romeo and deliver the speech as he did? To pay attention to the stresses and pauses, maybe not as deeply as a professional actor might, but enough to get an idea for how you might play the character?  Maybe Romeo is still the overdramatic boy from the earlier scenes, tripping over himself to find the right phrase.  Maybe he's impatient (read: horny) that he can't just be with Juliet right now. Maybe angry, that he's fallen in love with his enemy? I don't expect the performances would be anything to write home about.  But I bet that if you gave those kids a quiz about what's going on in that scene, the discussion would be far more interesting.
Thoughts?  Where my teachers at?  Am I projecting a memory from 20 years ago of how this stuff used to be taught, and nobody's doing that anymore? Are we all about the performance now? Getting the words up and off the page?