Going over edits for my Shakespeare wedding quotes book, I'm curious which play provided the most romantic quotes.  That's a fairly arbitrary measure, of course, but it's an interesting question. I'm not thinking of the story line. I mean, which play has the most passages that you could pull out of context and use elsewhere, and still have them sound romantic?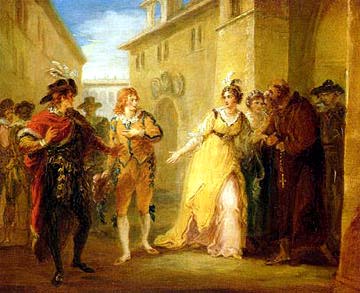 From where I sit, As You Like It and A Midsummer Night's Dream both have a great deal of stuff to say on the subject of love and romance.  But they're both … light? about it.  Neither, in my book, expresses the sort of ups-and-downs that come with what love's really all about.  Don't get me wrong, A Midsummer Night's Dream is damned near perfection from some angles, but half the time the lovers are in the grip of a magic potion and in love with the wrong person.  As You Like It I find just too corny.  Cute, but corny. Life's not as easy as that one makes it out to be.
I think I'll put my money on Twelfth Night. I love the discussion we had on music being the food of love.  Orsino has got some amazing insight about what love's really all about, and that place where it can actually cause you pain, and yet you still want more of it.
"They are in the very wrath of love, clubs cannot part them."
"Love sought is good, but given unsought is better."