Bardfilm and I have been discussing "modern adaptations" lately, and I asked for the distinction – did he mean modern setting but original text, or modern language?  For this particular context he meant the latter.  Since I don't normally seek out such movies I went out and found one – the King Lear adaptation of the book of the same name,
A Thousand Acres
.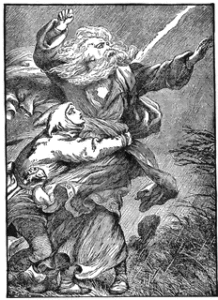 Jason Robards plays our Lear ("Larry", as it becomes apparently quickly that the author's gone with a whole first initial thing) to his daughters Michelle Pfeiffer (as "R"ose), Jessica Lange (as "G"inny) and Jennifer Jason Leigh (as "C"aroline).  From that point it's harder to tell who is who because unless I'm missing something the first initial game goes out the window as Colin Firth's Jess is plainly the bastard Edmund.  As you can see, though, the cast is first rate. For any "modern adaptation" of this sort that's clearly only taking inspiration from Shakespeare and not trying to tell his story, I look for a couple of things.  How much direct homage to Shakespeare is there?  How much of the original story remains?  How much new material does this story provide? In other words does the end result produce something standalone, while still showing respect for the original?  It's very tricky to strike a balance, because every time you diverge from the source material you're going to have audience like me asking, "Oh, really? So you think you're about to tell a better story?" and you need to bring it.  Safest not to change the story too much, but instead to bring new elements that Shakespeare never touched upon. How does
A Thousand Acres
do?  It's not bad.  The connection to the source material is clear, and  more than minimal.  Larry runs the farm, and wants to retire and divide it up amongst his three daughters.  R and G find this a great idea, but when C so much as says "Let me think about it" he disowns her on the spot.  I mentioned Jess as the bastard character who does all the bastard things, sleeping with the sisters, getting into a fight with his father (Pat Hingle as this sort of Kent/Gloucester combination character), but he's not really the architect of all the bad that happens.  There's even a nice big storm for the daughters to send their father into. Other than those story elements the similarities are few and far between.  In this story, R and G (makes me think of Rosencrantz and Guildenstern when I say that :)) are actually the good guys, if you can believe it. It's a very complicated story.  Nobody in town likes them because the people think the daughters conspired to steal the farm from their father.  Meanwhile the daughters have both got some deep dark secrets that reveal their father is not the nice man he seems, and is well deserving of their hate. I found the story too confusing to follow in many parts, and that's one of the reasons that I often dislike modern adaptations.  You try to add your own material, but then to really develop a foundation in that material you have to stray farther (further?) from the original, and eventually you hit walls where you can't go more in any direction.  Same here.  There are some obvious places where R and G are talking and it seems like the most obvious thing in the world to do is for them to go talk to C…but they can't.  That's not how the story went.  In fact we never really even get C's side of the story – this is Goneril's movie, if I have to pick a central character. The whole thing is additionally complicated with the addition of husbands and children, alcoholism and terminal illnesses.  There's a whole lot going on in this movie besides the Shakespeare.  And it's all set in this weird sort of Tennessee Williams sounding world where full grown women still call their parents "Mommy" and "Daddy" which, when coupled with the deep dark secrets that we learn, is all the more uncomfortable. See it if you get a moment, if for nothing else than to have something to talk about the next time somebody trots out one of those lists that contains nothing but
Lion King
,
Ten Things I Hate About You
and
She's The Man
. But don't go out of your way for it.