If music be the food of love, play on.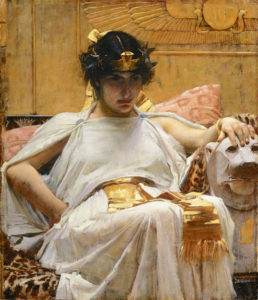 Everybody knows that quote, right?  Duke Orsino, opening line of Twelfth Night.
But check this out.  I was searching the text for music references tonight and a line popped up I'd never noticed before:
Give me some music; music, moody food
Of us that trade in love.
Recognize it?  That's Cleopatra, from Antony and Cleopatra (duh), Act 2 Scene 5. Sounds almost identical, doesn't it?  I love finding these obvious examples where Shakespeare had good luck with a particular turn of phrase and went back to it later.
It would be great if A&C was written first and we could say the most famous use of that line actually lifts it from the other, but that's not the case – Twelfth Night is pretty safely several years prior to A&C.