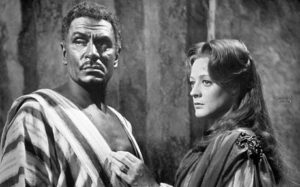 I'm not a big fan of "favorites" when it comes to Shakespeare – I like to play the "that's like picking a favorite child" card.  But part of the reason for that is because every play has got some good and some bad, something to recommend and something to avoid, none of them are perfect.
So instead let's play Moments.  Doesn't have to be a scene, or a line.  I'm not interested so much in the "what" as I am in the "why"?  Explain for me when, during the course of a particular play, you feel like everything hinges on this one moment?  Maybe it's just one character's chance to do something right. Maybe it gives ultimate insight into your favorite interpretation of the character. Maybe it's one of those lines that rockets through 400 years and hits you square in the heart like it happened 5 minutes ago.
Examples
King Lear's "Why is my man in the stocks?" scene.  I wrote about this at length when Commonwealth Shakespeare did the play a few years back, and having rediscovered that post this scene is what gave me the idea for the post.  It's not the line that's important. I can't even tell you the act and scene in which it occurs.  But that image of the king, who previously had people falling to their knees whenever he looked at them crossly, now being unable to get his question answered? Just does something for me.  This is the unraveling.
Emilia's confrontation of Othello.  How she discovers what has happened, and how she is implicated in Desdemona's murder?  Her first thought isn't, "How can I get out of this?" her first thought is to confront her husband.  Bold move, since she has the most insight into just how dangerous he is.
Who else has some good ones?