<cartoon-like cloud of dust obscuring the action>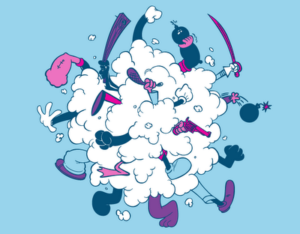 <sounds of a struggle>
<Batman sound effects>
<hotdish goes flying>
<furniture breaking>
*slam*
*lock*
AND STAY OUT!
I've waited almost 10 years to say this….
You're bard!
Knew I shouldn't have set my password to "open locks, whoever knocks."  That just does not meet modern cryptographic standards.
Seriously, though, I'd like to thank my old pal Bardfilm for keeping the lights on and not breaking anything too badly while I was gone (though there is a faint aroma of lutefisk I have not quite tracked down).  I'm still trying to get myself back on schedule on all fronts, home, work and Shakespeare, so it might still be a few days before I have regular posts flowing again.  Thank you everybody for their patience!
And hey, did you hear that Tom Hiddleston is playing Hamlet?
What's everybody's opinion on USC's bold choice of spelling on their new statue?  (Personally I'm ok with it, it was one of the more popular versions with folks like Alexander Pope using it.)
I'm aware that I'm now two full episodes behind on WILL, so I will try to binge watch those before Labor Day (although this message will no doubt be scheduled to post after Labor Day so you may not even notice ;))
Glad to be back!