A few years back I wrote about Decorating Your Life with Shakespeare.  I've never been the kind of outgoing personality that will walk up to somebody and make conversation (or even introduce myself).  But if I'm a walking billboard for Shakespeare, and people want to start the conversation by asking me something?  Then they'll have a hard time shutting me up.
Saturday I'm at my son's martial arts class waiting.  It's one of the more informal classes, a glorified practice session. The head instructor isn't even there, but his right hand man is.  And his right hand man has time to interact with the parents.  For my part, I bring my laptop and do stuff.  See earlier note about socializing. 🙂
"You got new stickers," the instructor says to me.
"What?"
"Your laptop.  I noticed you've got a new Shakespeare sticker on your laptop." My laptop has a Chandos picture and the "Some achieve greatness…" quote, a gift from my kids last year. That's my personal laptop.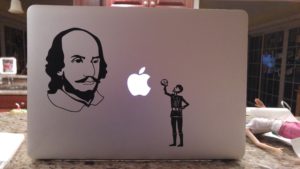 I laugh.  "Nope," I say, reaching into my backpack to pull out a second laptop, that also has Shakespeare stickers on it.  That's my business laptop, and it has silhouette characters of Shakespeare and Hamlet .
The other parents move to see, so I turn around and show them off, one in each hand, feeling especially geeky.
"Speaking of which," my son says, "How did your Shakespeare costume do at work?"  Spoiler alert – I dressed as the Chandos Portrait for my work's Halloween party. But you have to wait for tomorrow's post to see pictures 🙂
This leads to the instructor asking if I have pictures, which I do, and of course now all the parents are interested.  Long story short, instructor ends up putting RSC's "Hamlet Abridged" on the television (where they normally just run a slide show of advertisements).  I get into a conversation with one of the parents, who happens to be a high school English teacher.  She tells me about how she shows her kids the Leonardo diCaprio version of Romeo and Juliet as well as Zeffirelli, but she has a special love for Gnomeo and Juliet.  I introduce her to Sealed with a Kiss, a movie that most people outside of this blog will have never heard of.  I hope she manages to find a copy!
We only just have time to get into the, "So, how did you get into Shakespeare?" conversation, which has no short answer :), but maybe next time.