SCENE

A rehearsal room, dark. Enter JACK through the curtains, directly from outside as we see cars driving past.  He rolls a single, lit incandescent lamp to center, and opens the curtains. We see folding tables on which sit copies of Romeo and Juliet by William Shakespeare.  JACK picks one up and starts swearing.

Enter a younger man, STEPHEN, on the phone and holding a neck brace. He's clearly been looking for JACK and is relieved to find him.
Thus opens Lear's Shadow, written and directed by Brian Elerding, which I had the pleasure of watching yesterday at Mr. Elerding's invitation.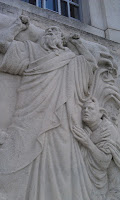 We quickly learn that something bad has happened, though what we do not yet know. Jack is bruised, Stephen is trying to get him back into the neck brace, so those are some obvious clues. More telling, however, is that Jack – our director – seems to have no real idea where or when he is. He doesn't know what play they're rehearsing (hence his anger at seeing Romeo and Juliet scripts) or why no one else has shown up for rehearsal.
Stephen's job is to keep Jack talking until Rachel (who Stephen was speaking with on the phone) can bring the car around. They reminisce about other plays they've done together, before landing on King Lear.  Jack keeps re-realizing that the scripts are wrong, and doesn't know the date. Stephen takes it upon himself to walk through the play with Jack.
For the next hour the two debate the finer details of Lear – what scenes and lines can be cut, how to deliver certain lines, where to "start" so you have "somewhere to go".  If you love being a fly on the wall during conversations like this (as I do) you're going to greatly enjoy this. I do not fancy myself an actor, never have, so I like to watch them work at their craft without trying to put myself in their place.
Of course none of this is random, we've got a man who has lost his memory and has clearly had some tragedy befall him doing what amounts to a one man show about a man who has lost his memory upon which many tragedies fall. It's a reminder that while King Lear may have been written five hundred years ago it could also have happened yesterday.
Though I'm watching this as a movie it reminds me of going to theatre back when I was a younger man. It's a bare stage two man show, just dialogue, no real plot to speak of other than toward the ultimate answer to the "What happened?" question (which we may or may not receive).
If you believe that Shakespeare makes life better, even when it brings tears rather than laughter, then of course you're going to like this. It's very reminiscent of when Slings & Arrows did Lear, a connection the director and I already spoke of.  "There's no way I wasn't influenced by Slings & Arrows," he wrote.  That's intended as high praise.  I'm not saying "This is trying to be Slings & Arrows," I'm saying, "I'd watch an entire season of this like I'd watch a season of Slings & Arrows."