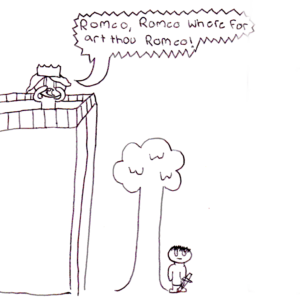 So my son's 12th birthday is coming up, and like many almost 12yr olds he dreams of being Internet famous.  His latest foray is into the world of three panels comics, and he's trying to develop a following on Instagram.
He keeps asking me, "Share this to your followers!"
I keep replying, "Write something with Shakespeare in it!"  Because I love my boy to death but I'm loyal to the sanctity of the brand, too 🙂
So we compromised. With a little help from yours truly he knocked out a Shakespeare comic specifically for you kind folks.  If those of you on Instagram are so inclined I'd greatly appreciate it if you could do the kid a favor and like/follow/share/favorite or whatever it is you do on Instagram to show your support.  (Note that it is a three-panel joke so you have to do click through to see the other panels, we didn't even know you could do that until his older sister showed us.)
I'm not kidding it really is his birthday in a couple of weeks so seeing that number of followers go up to a level he didn't expect would certainly be a nice treat for him.