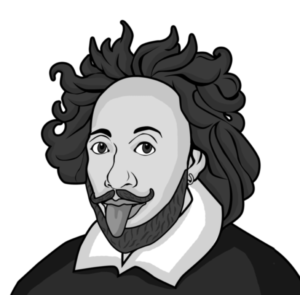 I do so love Shakespeare Day.
I try to get a little Shakespeare into all my days.  I can't crank out the posts like I used to (once upon a time averaging more than two per day), both because life's gotten in the way more often than not but also because it feels like we've done everything already.
But I've "decorated my life" with Shakespeare and it gives me no end of joy when somebody says to me, "I saw something about Shakespeare the other day and thought of you."   In fact I ran into a new coworker in the company kitchen last week and I said, "I don't think we've been introduced yet, I'm Duane."
He shook my hand and said, "I don't think we have, but I know you. You're the Shakespeare man."
Just one of the myriad ways Shakespeare makes my life better.
This year we're doing a retrospective. It'd be impossible for me to link to the dozens upon dozens of marathon posts I've made on April 23 each year, but just like I'm doing now I like to kick it off the same way…
Have fun browsing through the years!
For those folks who follow on Twitter I've set up an extra special treat – all day long I'll be retweeting some of our most popular jokes and hashtag games from across the years.  My very special thanks to Bardfilm and all my loyal Shakespeare geeks who've brought more Shakespeare into the world for everybody.
This year I am going to ask a favor. There's going to be a bunch of links to all my latest merchandise, both on Amazon (where you can get t-shirts, both long and short sleeve, as well as sweatshirts and hoodies) and Red Bubble where you can get other merchandise (stickers, phone cases and so on).  If you've enjoyed Shakespeare Geek over the years and want to help it continue forever, I'd appreciate your support. Even if you don't see anything that's right for you, surely most of us have a Shakespeare friend that's got a birthday coming up, don't we?  Thanks so much for all you've done to keep the site running a remarkable soon to be thirteen years!
Know what I'm gonna say next?  It's my favorite part. Ben Jonson was right. He was not of an age, but for all time.  I therefore will begin.
Soul of the age!
The applause, delight, the wonder of our stage!
My Shakespeare, rise!