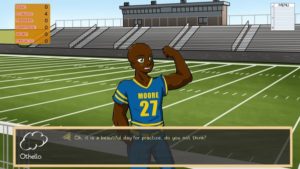 Whenever I see a reference to a Shakespeare inspired video game it immediately catches my attention.  Shakespeare's works are one of the great places to start for public domain stories, after all.
So when I spotted Paper Shakespeare: To Date Or Not To Date  I had to check it out. In fact, I literally sought out the developers to have a conversation on the topic.  It turns out that they're planning video games based on thirty-seven of the plays?!  I love that idea.  As a cynical old man I don't expect to ever see it, but hey, as they crank them out I'll be sure to post about them here.
How is Paper Shakespeare? I wish I could say I liked it, I really do. It's apparently supposed to be some kind of dating simulator, whatever that means.  From my angle (that of a fifty-year-old married father of three) it resembles a choose your own adventure book, offering me a few sentences of text at a time, leaving me to just press the space bar over and over again. I meet the characters, all sporting Shakespearean names and high school personalities – Tybalt the bully, Othello the football star, and so on.  Every now and then I get a choice to make – which class should I take? Who should I pass a note to, and what should it be about?
I just don't know what to do with it at all. There's a counter in the corner that's keeping tracking of some sort of interaction I have with the characters, and I get the feeling there's a goal, I just can't get into it.  Sorry, developers. Maybe I'll enjoy the next one more.