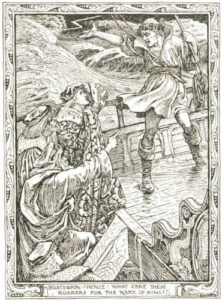 It dawns on me, as I sit here in my Tempest mood, that I've got almost 100 Shakespeare Geek designs in Amazon and RedBubble, but none of them have anything to do with The Tempest.
How'd that happen?
I immediately set about to remedy that problem when … I got stuck. I have no idea how to proceed! It's easy to grab a quote and throw it on a shirt, but I think that's just playing the "quantity over quality" rule and I don't love that.  Maybe that's why I'm not raking in the cash, either, but that's never been my goal 😉  If I'm going to put up a design and ask people to spend real money to own it, I'd like to feel like I put some effort into it.
So, who wants to brainstorm with me? Amazon offers t-shirts and hooded sweatshirts, but RedBubble offers a larger selection of other merch – iPhone cases, pillows, blankets, journals, stickers, etc… so I can really do either.  If you're a fan of The Tempest, what do you think would look good on merchandise?  A favorite quote?  One of our old jokes or hashtags games from over the years?
I suppose we could look into original artwork if somebody had a cool idea.  I'm already thinking about maybe digging into the public domain stuff and seeing if I can't get creative with one of the old woodcut images depicting Prospero and Ariel.  Hmmm…
Who's feeling creative? I promise I won't nag people to buy it if we end up making it.  I just want to see some new designs flowing into the store, and
The Tempest is the biggest gap I see right now.  (Not a lot of call for Pericles merchandise.)