One of my favorite things is when people come up to me and say, "I saw something the other day and thought of you," and it turns out to be a Shakespeare reference of some sort. I especially love it when it's friends I rarely hear from or coworkers with whom I wouldn't otherwise interact during the day.  I always relay the story here and I always say "My plan is working." Because every time that happens, that means that there's a little more Shakespeare awareness in the world.  Whatever it is that I'm doing, that the people around me are picking up and taking with them in the back of their brains, made them recognize a Shakespeare thing they saw, and pay enough attention to it and think, "I have to tell Duane about that."  (Seriously, just this week a coworker told me that at an antique store he spotted a coffee mug in the shape of Shakespeare's head. "I thought you'd like that. But it's not like I was going to buy an antique for you.")
I am extra happy to report that the next generation has taken over.  As summer vacations wrap up and the kids get ready to get back into the school schedule, sports practices begin and so on, my daughter texted me a picture and said, "Look what I got!"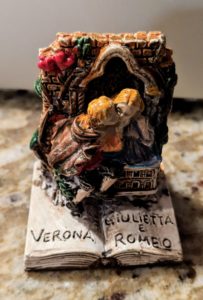 Turns out one of her friends went to Italy for vacation and, while in Verona looking at "Juliet's balcony", decided that she had to bring my daughter home a present.
On the one hand it's a just little tchotchke brought back from vacation, like a souvenir spoon or refrigerator magnet. But I see it quite differently. I see it a whole new generation of Shakespeare geeks.  My daughter's friends know that she's "into Shakespeare."  So now they're the ones seeing Shakespeare things in the world and thinking, "Hey, I should tell her about that."  Now my daughter's actually starting her own collection of memories along those lines.  Hopefully one day (NOT soon!) one of her kids sees this hanging out on a knick knack shelf, takes it down to admire, and starts hearing stories about Romeo and Juliet?  
My plan is working better than I could have dreamed.