Although this story will be old by the time it gets posted, I would not be living up to the geek part of my name if we didn't talk about the UK student who managed to fit the complete works of Shakespeare into a single tweet. At least, that's what the headlines would have you believe:
To be or not to be 280 characters: All of Shakespeare's works in a single tweet
Someone just tweeted the entire works of Shakespeare with one tweet
You can unzip this tiny image on Twitter to reveal the complete works of Shakespeare
You get the idea.  That last one at least gives more of a clue about what's going on.
Here's a link to the original tweet from David Buchanan.
It contains a link to a small image of Shakespeare (Chandos style, for the curious who can't see it) with the words UNZIP ME over the top.
If you're not familiar with the term, a zip file is basically a compressed version of another file, or files.  What Mr. Buchanan figured out how to do is make a single file that behaves both like an image and a compressed zip archive at the same time.
So if you were to take that image (right click from your browser, do "Open in Image New Tab"), and then save the image by itself with a .zip extension, and then double click on it to expand the archive, and what you'll get is the single file HTML version of Shakespeare's works, from Project Gutenberg.
Is it a cool technique? Absolutely.  Even better is that Buchanan went on to release the source code for how he did it.  So I get to do cool things like this: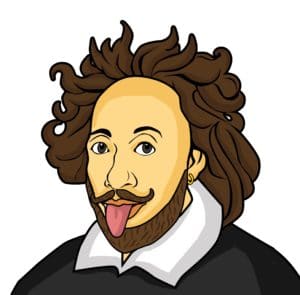 This image is actually encoded with the plain text version of The Tempest (also from Project Gutenberg), in case you'd like to play with it.  Save it with the extension .zip, then unzip it, and there you have it!
If you know how to read source code it's even cooler, because the code to do it is very small (as in, just one file).  It's very neat indeed, and Mr. Buchanan deserves the credit for demonstrating the technique so vividly.  This is a great example of why geeks are attracted to Shakespeare, because it represents a big body of text to play with that immediately brings a bunch of attention with it every time you touch it.
But saying that the complete works fit into a single 280 character tweet is not really what happened.  The image is linked in the tweet.  The image itself is 2 meg in size!  That's kind of like putting a First Folio in a room, locking the room, then handing someone the key and saying, "You've got the entire First Folio in the palm of your hand!" It does sound cooler that way, though.
This month's posts are sponsored by No Shave November. If you've ever thought about how you can support the site, here's your chance. This month we're donating all proceeds from advertising, merchandise and book sales to raising cancer awareness.  You can make direct donations as well at the above link.  Thanks for your support!