When people learn about the Shakespeare thing with me, the first question I'm asked is, "What's your favorite play?" The answer is, "The Tempest."
The second is, "Have you ever been to Stratford?" The answer is, "Not yet."
That answer is about to change.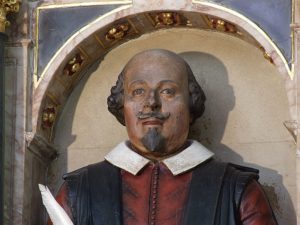 I am thrilled to announce that after running Shakespeare Geek for almost fourteen years now, it looks like our stars have aligned and the SG family will be vacationing in England this summer!  For years I've put it off, for a number of reasons.  Mostly because my wife actually went to England right before we got married, with her own family, and given how many places there are in the world that we haven't seen, I wouldn't want to make her go someplace she's already been. That feels selfish to me. No matter how big a deal it would be for me, I don't like putting myself ahead of my family.
Then a funny thing happened. My kids grew up. Do you want to know what they say when my wife asks where they think we should go on vacation? They say, "We've got to get Daddy to see Shakespeare's birthplace."  So basically my whole family got together and said, "It's ok, we all want to go."
(Just to put some icing on the cake, I got an unexpected bonus at work that's going to help pay for the trip!  Not everything to be sure, but when Fortune says, "Dude, you've always wanted to go, your family wants you to take them, and here look it's not going to be as expensive as you thought it was," you go!)
Now comes the fun part – planning.  I am well aware that Stratford is pure tourist central and that I should brace myself for disappointment over just how gaudy it is.  I mean, come on, even Thomas Jefferson and John Adams said as much, 200 years ago.  But I am hoping that I've got a secret weapon that not everybody has…namely, you fine folks.
Depending on how you count, I've got somewhere north of twenty thousand followers who are potentially reading this. Many of you work in the business (academically or professionally). To you, it might be a regular occurrence to see shows at the Globe or visit the Birthplace. Or run into Stanley Wells or Ben Crystal or Gregory Doran on a regular basis.
But to me, this is likely a once in a lifetime opportunity, and I'm treating it as such. Those places and those people are a big deal to me. To steal from Dead Poet's Society, I want to go to Stratford "because I want to live deliberately. I want to live deep and suck out all the marrow of life." How can I just say, "Oh look, there's Shakespeare's birthplace" along with a thousand other people? I've got most of my life telling people that "Shakespeare makes life better" and I'm about to walk into the center of the Shakespeare universe. I am prepared for the possibility that I might explode.
So consider this me asking for your assistance.  What should I do? I am wide open at the moment, and looking for literally any and all info. Where should we stay? What should we see? How long should we take?  Is there anything special we might be able to get into that is not part of the regular "everybody gets to do this" itinerary?
We are looking at the last week of August, based on work and summer camp schedules. Of course my wife and kids are going to want to go see the regular London sites, visit the castles, all that sort of thing.  But we all know that the first priority is Shakespeare, and I want to make it a trip to remember for a lifetime.