A long, long time ago, when my kids were still in single digits, I had a pop-up book featuring Shakespeare's Globe Theatre. I used to take it in to their classrooms as a prop.  I knew it had made an impact when a few months ago, my oldest daughter – who is now driving, and looking at colleges – came to me and said, "Do we still have that pop up book? I want to bring it in to class."
So when I heard about Candlewick Press' Pop-Up Shakespeare (by Jennie Maizels and the Reduced Shakespeare Company) I reached out to see if I could review it. They were happy to oblige!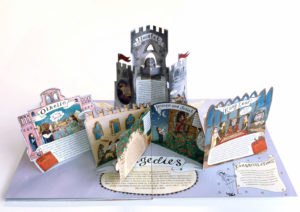 I admit that it's been a little while since I've purchased pop up books for my kids, but I have to say that this is one of the best I've seen. Let's start with the amount of information provided. It covers everything (*). I learned things. We get some bio on Shakespeare himself, we get all the plays – including the questionable authorship plays – and we get the long poems.
Surely for a book with that much information it must be densely packed, right? Right. In a fascinating way. Much of the book is "lift the flap" style, and each spread is dominated by a huge, two-page pop up feature. But ready for the twist? The text is on both sides of the pop up, rotated accordingly. It's hard to explain, but the best way is to think of this as a book to put down on the table and have the kids gather around from all angles and take turns reading what they see, because there's stuff about Shakespeare just literally all over the place.
This would have been a great prop for me back in my volunteering days. If you're still in that place, where you've got an audience that will enthusiastically gather around to start exploring things that pop up and looking for flaps to lift, I think this one is an excellent choice. I really do love that they covered everything everything. It would have been so easy to consider the audience for a book like this as not being old enough for Titus Andronicus or Timon of Athens, and spend all of its time on Midsummer or Romeo and Juliet. If you believe that you're never too young to learn about the whole breadth of Shakespeare's work, these authors are on your side.
(*) "The gift is small, the will is all: Alexander Aspinall."  I may have heard that once upon a time? But it was definitely a surprise to see it referenced in this book. Gives you just a little idea of how much information is hiding under those flaps.
POP-UP SHAKESPEARE. Text copyright © 2017 by Reed Martin and Austin Tichenor. Illustrations copyright © 2017 by Jennie Maizels. Reproduced by permission of the publisher, Candlewick Press, Somerville, MA on behalf of Walker Books, London.