I joke about the Ethan Hawke's Hamlet (2000) because, honestly, I never finished it. Maybe I was going through a cynical phase at the time, but I remember listening to his rendition of "To be or not to be" in … was it a laundromat? And thinking, he's just rambling through this, this isn't any kind of delivery, I'm not enjoying this. I think Bill Murray was his Polonius, and honestly I don't even remember anything about his performance. I heard it was actually good.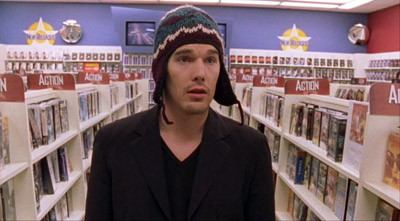 But I'm coming back around, and think I should give him another chance. The man's clearly a fan of our favorite subject. He's got a new novel out, A Bright Ray of Darkness, about an actor whose marriage fails just as he's starting out a run in Henry IV on Broadway. Hawke himself was Hotspur in a Broadway Henry IV, and his marriage (to Uma Thurman) also failed, so this seems a bit autobiographical.
I love reading about people playing Shakespeare. That this one seems to hold a mirror up to nature so clearly makes me want to read it that much more. And maybe I'll tune in to Hawke's Hamlet again while I'm at it.