You never know where you'll find some Shakespeare. I saw the trailer for the new Air movie about Nike, which prominently features people talking *about* Michael Jordan but no actual Michael Jordan. So off I went to IMDB, curious to see who would be playing him. I found it interesting that the actor in that role is listed seventh, behind the actor playing his father, Julius Tennon, who doesn't even have a headshot. So I clicked to learn more about Julius Tennon and found …
Operation Othello is "a futuristic adaptation of Shakespeare's Othello set in the world of an elite naval special forces unit."
Oh? Tell me more!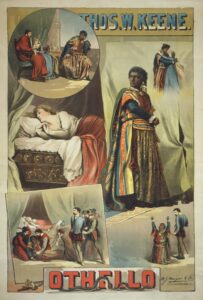 Tennon has multiple acting credits dating back to the 1980s, not sure why he doesn't have a headshot on file (there are plenty of photos). In fact, he's got a production coming with Viola Davis, JuVee Productions, and this is their project. Debuting at Cannes in 2019 as a "VR series," and I'm even more curious now about what that means:
"We believe Immersive Media is an integral part of the future of storytelling and presents a unique opportunity to bring a voice to the voiceless. As an 'empathy machine,' we're excited to see how VR can allow viewers to be intimately present with powerful characters across the broad spectrum of humanity."

"As an avid Shakespeare lover who has been lucky enough to witness and perform his profound words on stage," Chieffo says, "I was inspired to present the original text in a way that is accessible and exhilarating to a modern audience."
IMDB calls it a TV Movie. I'm wondering if they adapted it into something more traditional for wider release because the press release seems to imply it's something more like a game. I don't think we have a good name yet for immersive movies where you put on the headset and "experience" the story, but really the story is still the same no matter what you do.