Recently I was having a conversation with my father and he dropped a bomb on me. "I just don't get the whole Shakespeare thing," he told me.
What am I supposed to say to that? Shakespeare makes life better? His next question would be, "Why? Why would it make my life better?"
But the thing is, I get it. I understand why he feels that way, and why I can't give him an easy and obvious answer. I've thought about it for a long time. Does the name Abraham Maslow mean anything to you?
Maslow's Hierarchy of Needs
Maslow's Hierarchy of Needs is a theory in psychology that explains the five basic human needs and their order of priority. According to the theory, humans are motivated to fulfill their basic needs before they can move on to more complex needs. The five needs are physiological needs, safety needs, belongingness and love needs, esteem needs, and self-actualization needs.
Physiological needs are the most fundamental needs that must be met, such as food, water, shelter, and sleep. Safety needs come next, which include the need for safety and security. The third level is the need for belongingness and love, which includes the need for social interaction, friendship, and love. Esteem needs refer to the need for self-esteem, confidence, and respect from others. Lastly, self-actualization needs are the need for personal growth, creativity, and fulfillment.
Forever Climbing That Pyramid
My dad and plenty of people his age have a very different perspective on "need". His generation would probably tell you that the purpose of life is to get yourself a job that can support a family. And ….. that's it, end of answer, why do you need more than that? If you're able to provide for your family, you're doing it right. So keep doing that.
I'm all for that answer, as far as it goes. I, too, put "provide for my family" above all other things. It's one of the reasons I have a lucrative full-time job and I'm not on a corner somewhere reciting Shakespeare and hoping for handouts.
But let's look at that on Maslow's hierarchy: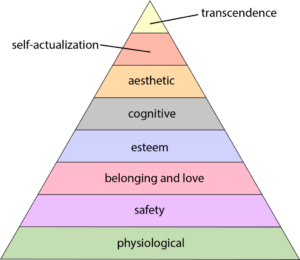 "Get a job and support a family" takes you, how many levels up the pyramid? Three, four? Esteem is maybe where we begin to separate. Are you happy to do the same job forever if it pays your bills? Or do you want proof that you're good at your job? You want recognition in the form of promotions and raises, which in turn trickle down and enable you to better provide for your family's needs.
I think "Shakespeare makes life better" lives higher on the, well, hierarchy. It's like going in to a high school classroom and trying to explain to the students why they shouldn't just take those courses that are directly related to the career that they've already chosen (or has been chosen for them). The unexamined life is not worth living, as the saying goes. We have to embrace that. You're right – knowing more or less Shakespeare for the general population will not change your ability to bring home a paycheck and get the bills paid. But there's so much more to life than that.
Don't get me wrong – I think that it's a luxury and privilege to even have the conversation. One of the reasons why a lot of our parents can't see things that way is because they grew up in a time where you wore the ripped hand-me-down clothes and you ate whatever was put on your plate and the idea of "do I like or want this" never entered the equation. It is precisely because my parents put so much focus on "provide for your kids" that I have this luxury.
I think it's ironic that Shakespeare, unfortunately, has transcended its original "entertainment for the groundlings" purpose. People today don't flock to see Two Gentlemen of Verona because the dog is funny. Shakespeare has become symbolic "education for the sake of education." I just called it a luxury. Here I sit trying to tell people that Shakespeare makes life better and yet that it's a luxury that not everyone feels they have the opportunity to pursue. It's a lot to think about. I guess that's why it's called a mission.