As a computer programmer, one of the things that drew me to Shakespeare so many years ago was that it's just an extensive public-domain database. Likewise, as a web developer, I've always had ideas for what kind of interface I would make for browsing Shakespeare's work. My favorite's always been the MIT site. I like the idea of having the entire play on one page so I can easily search for a word or quote to ensure I'm not about to say something wrong. Well, I don't know if you noticed, but the MIT site went down at some point several months ago and … stayed down. Just like that, a daily Shakespeare resource that had been around for 30 years (one of the few that can say it's been around longer than me!) was gone, with no word about what happened.
That sounds like motivation to me! With absolutely fascinating help from the various AI tools now available, I am exceedingly proud to present my latest contribution to the Shakespeare Universe…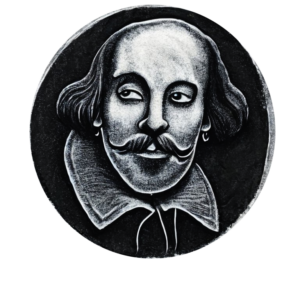 Feel free to go check it out! But then come back so I can tell you what it's got.
Behold The Latest Searchable Shakespeare Resource Site
Each entire play is available on a single web page, so we keep that search ability I love.
Each line tells you context. One of my biggest problems with the MIT site is that I'd find the line I wanted and say, "Ok, where did this occur so I can cite it properly?" Now we know. Each line tells you.
Better – the reference is a link. You can jump right to that line and save that URL. Perfect for sharing, which I hope people do!
Summaries! I wanted to consider the possibility that some visitors may need help understanding what they're looking at. This is one place the AI helped. Every play, act, and scene has an AI-generated summary. They are hidden by default to stay out of the way, but if you hit that button in the footer, you can check them out. Let me know what you think!
Quick links to each act so you can bounce around the play easily without having to scroll all over the place.
This new resource can also be found in the main menu under Plays, so you never have to go hunting for it.
Feedback Wanted
I hope everybody enjoys this new Shakespeare resource! Please let me know what you think. This is the initial launch, so I am sure of two things:
One, there will be bugs. I have not been through every line of every play yet. I wrote code to generate this, obviously. If there are places where the text formatting went off the rails a bit, my version probably does as well.
Two, I will keep changing it. Whenever I poke around, I think of something else I want to add. Most importantly, I plan to add a "Download Printable Version" button to each play. Because printing a web page never really works how you want it to. I also wonder whether I could add some "resources" type thing. Scenes would come with links to watch their performance on Youtube or something. I don't want it too dense. I think the simplicity of the "entire play searchable on one page" is most important. But it's fun to explore what will make it the most helpful resource it can be.
So, there you go! Take it for a spin, and let me know your feedback. Did you break it? What should I change or add? I can't wait to hear from everyone! Tell all your friends! Shakespeare makes life better!
P.S. – Oh, the MIT site then went ahead and stole my thunder by coming back online. *shakes fist* I could have left that part out of the story but that's not what we're about here people. The more Shakespeare resources the merrier!