I've been doing this for a long, long time. I often tell the story of how The Tempest was my children's first Shakespeare experience in August 2008. Technically, that was their first full performance. I'd completely forgotten that their first experience with Shakespeare was earlier that summer.
But there's something that happened that day that I realize I didn't write about in that post. Picture it, if you will. With my youngest still in a stroller, I'm pretty much still a new dad. I've also been running the blog for about three years at the time, so I've been anticipating this moment all that time. I grew up a computer nerd, and everybody told me that my children would grow up to be nerds, but it'll be a long while before we get to that. But there's never been an obstacle to introducing them to Shakespeare, and this was my chance.
What I walked into that day was magical. I knew that I could read Shakespeare to them. But here were children, some not that much older than my oldest, on stage and in costume, actually performing. Something else happened that day that I think back on often, though it's hard to put into words. It was more an emotional experience than anything else. I caught up with one of the organizers of that day recently to reminisce, and I'll borrow her words:
The audience would gather, we'd introduce the show. The kids would be out of sight range and would get into a gratitude circle, manifest the energy and magic they wanted to bring to the performance. I believe they'd always be holding hands, and then at the end of it they'd raise their held hands up over their heads and yell "THANK YOU, SHAKESPEARE" so he could hear them.
That still sends lightning bolts down my spine, both the description of it and the memory of being there. This was an island, and their energy echoed out into the expanse around them. It doesn't do the moment justice to just say, "Thank you, Shakespeare." These were children screaming it into the universe. Let me tell you something: if you perform Shakespeare when you're still in elementary school, there is no challenge too great for life to throw at you. You can do anything. That's a tremendous gift, and it merits thanks.
And I thought in that moment, "Yup. My kids may not end up as performers, but however much Shakespeare I can bring into their lives, so that they can bring it into the universe around them, then that's what we're gonna do." That is the motivation and energy I brought into their classrooms, telling these (eventually) 8-year-olds exactly that, that there was no reason they couldn't understand Shakespeare or anything else they put their minds to. It's one of the reasons the mission statement for this site is, "Shakespeare makes life better."
Thank You, Shakespeare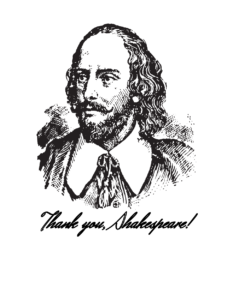 The reason I bring this up is that I finally connected enough dots to help return the favor those kids did for me (and my kids) at that moment. I honestly don't know why I never thought of this before. I finally put together a line of merchandise with precisely that sentiment — Thank you, Shakespeare.
When I first started making merchandise like this, I said it was a way for kindred spirits to recognize each other in the wild. I never wanted to just stick Shakespeare's face on stuff and call it a day. I want all my creations to have a message. I want people to see it and get it, you know? If it's true that Shakespeare makes life better, it's only fair that we thank him for it, don't you think?
This design is available on Amazon in all the usual styles – men's, ladies', and children's tees, v-necks, tanks, and hoodies. Also, in this case, I did phone cases, pillows, and tote bags. It's available with and without the exclamation point, depending on personal preference. I'm more understated about it, but friend Christine said oh no, one must exuberantly proclaim it. Dealer's choice!
Thank you, loyal readers, for nearly twenty years of shouting Shakespeare into the universe in our own way. And thank you, Shakespeare!