Shakespeare makes life better. Sir Patrick Stewart is among the pantheon of modern actors who stand as a walking embodiment of Shakespeare's work. Ergo, SirPatStew makes life better.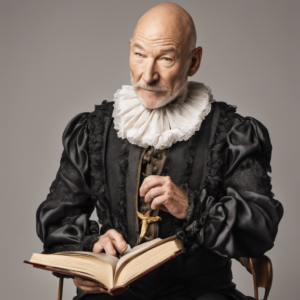 I may have mentioned that I live for my audiobooks. I go into the office two days a week in this modern hybrid world, and my commute is about 90 minutes each way. That's 6 hours a week of audiobook time. And when you listen on 1.5x speed, it's really more like 9 hours/week. (I think I did that math right.) So, with a typical audiobook being around 8 to 12 hours, I fly through them as you might imagine.
Enter Making It So, the newly released memoir from Sir Patrick Stewart, thankfully read by the author. I had to make sure about that last part, as this would have been a totally different experience with someone else reading it. We all know that Patrick is as famous for his voice as James Earl Jones or Morgan Freeman. It is so worth it.
I love every word of this book. The man's had a lengthy and illustrious career spanning not just Shakespeare but Star Trek, the X-Men, and classic literature ranging from Charles Dickens to Herman Melville. It's all here, but really, we're talking probably 80% of the book is Shakespeare.
Like any memoir, we start with his growing-up years. We learn about his mom and brothers and his distant relationship with his abusive father. Strangely, his brother Geoffrey comes up maybe once in the whole book, while brother Trevor is an important part of the story. Not much is said about that disparity.
But soon we're into the meat of the book, his time with the Royal Shakespeare Company. The stories come fast and furious, from his earliest days of being the new kid getting the non-speaking roles and standing in awe of his own idols, to eventually becoming an idol to the next generation (see what I did there?)
If you're like me, you'll already be hanging on his every word at this point, so when he starts dropping names – whether Shakespeare characters or Shakespeare actors – you may find yourself laughing out loud or literally having your breath taken away, as I did.
I'll tell one quick story to illustrate how much I loved this book. Otherwise, I'll talk forever. For me, the works of Shakespeare are kind of like a snow globe on the bookshelf. Inside, there's this fascinating little world that I could stare at for hours, always finding something new, always wondering what that life might be like. But it's a different world. A bubble. There's a barrier between my world and that world. A transparent one, but not a permeable one.
Then Stewart talked about his audition for the RSC and said two words – John Barton.
And I was right there on stage with him. Words like breathtaking are rarely used literally, but I can use such a word here. I was transported. (See what I did there? ;))
John Barton did a PBS mini-series some years back called Playing Shakespeare where we got the pleasure of watching a parallel universe where young Shakespearean gods like Ian McKellen, Ben Kingsley, Judi Dench and Patrick Stewart learned their craft right there on the stage, in plain clothes, taking notes from teacher/director Barton in his comfy cardigan, no doubt channeling no small amount of Mr. Rogers for those of us who grew up on American television. It is the most inside and intimate look at the world of "behind the scenes" Shakespeare I've ever seen. It took only two words from Stewart to shatter that barrier between our worlds and make me feel like I was right there with them. I'm still getting goosebumps writing about it.
Enough about Shakespeare, though. I want to tell you all the stories like that, but I don't want to spoil it for you. Let's talk about the rest of the book.
There's a lot of Star Trek in here, to be fair. But for a 12-hour audiobook, Star Trek gets mentioned maybe 8 hours in, to give you an idea. He speaks of his Captain Picard role with the same respect that he speaks of Shakespeare. The fact that he got to act in Star Trek opposite some of his Shakespeare heroes (hello, David Warner), makes it all the more special. There are four lights!
Being a brand new book, this is very up-to-date, taking us all the way through the pandemic and three seasons of the Picard show. He tells us all about his social media adventures, from "folding his first New York slice" to reading a sonnet a day on Instagram during lockdown. I was there for all of it, and I loved hearing about all of it again.
There's one surprise in the book. Sir Ian McKellen is hardly mentioned at all. The Internet wants to think that these two are inseparable BFFs for life, but this memoir does not paint that picture. Patrick loves Ian and they are no doubt now the best of friends, but if you'd gotten the idea that they grew up together on the Shakespeare stage, that is not the case. Apparently, they never even played together at the RSC, and didn't really start doing projects together until X-men! WHAT?
Ok I'm done. If you haven't ordered your copy yet, what are you waiting for? You're on a Shakespeare site, you're a Shakespeare fan. This book is like distilled essence of Shakespeare, you'll want to spray it on yourself like cologne and walk around in it all day.