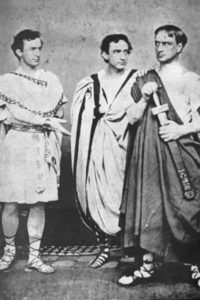 I wonder if somebody confused "drums of war" for "dogs of war" when they attributed this quote to Julius Caesar?  Nothing about this quote shows up in the play, of course. I suppose there's at least some possibility that it appears in actual Caesar's actual writings, since I'm not an expert in those.  But others before me have researched this question and apparently nope, not real Caesar either.  This quote doesn't appear to exist before 2001.
For more details I'll let the About.com Urban Legends page have the last word:
It's odd, to say the least, to find a passage attributed to Julius Caesar (born 100 B.C., died 44 B.C.) that never appeared anywhere in print before 2001. It's equally odd that while the quotation is cited in dozens of Internet discussions concerning post-9/11 political developments, it never turns up in any articles or books about Julius Caesar himself. If it's to be found among his own writings, no one has yet been able to pinpoint where.
I also think it's funny that we get to credit a specific person for incorrectly assigning this one to Shakespeare — Barbra Streisand!?  Quick, what's the difference between Barbra Streisand and every quote-collecting message board on the Internet?  Streisand acknowledged she was wrong.