Hello everybody!
I've heard from many regular contributors that ever since I switched to WordPress, commenting has been giving them trouble.  As in, it doesn't work.
I am happy to report that with the help of Erin Nelsen Parekh, they seem to be working again!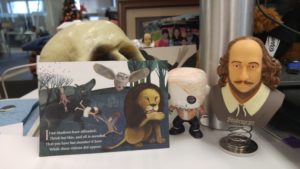 In case her name looks familiar, Erin is the author of Behowl The Moon, a Shakespeare baby board book on Kickstarter last year.  In fact, some of the swag I got from backing that project is now part of the ever growing Shakespeare shrine on my desk!
Thanks Erin!  Sorry for the inconvenience, everybody.  Now let's get those discussions heated again!