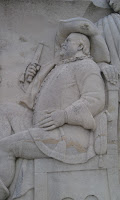 Have you heard the news?
No, not that Tom Hanks and his wife Rita Wilson have been associated with The Shakespeare Center of Los Angeles' Simply Shakespeare event since 1990.
This year, Hanks and Wilson will actually be taking part in the production, something they've never done before.
Even better?  Tom Hanks is playing Falstaff.
How do we feel about this? Is that a good role for him?  Has Hanks ever played anything other than a purely lovable good guy Jimmy Stewart type?  Can he do Falstaff? I know the man's got acting credits up one side and down the other, but I'm not sure that he's ever performed Shakespeare. Is Falstaff the first role you want to attempt? Is it too much of a role to ask of anybody?