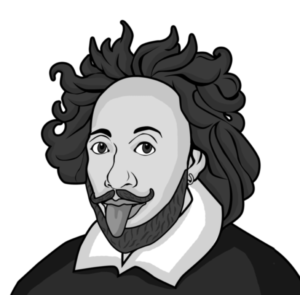 And no I'm not talking about my wedding anniversary, I wouldn't be here telling you about it if I forgot that every year!
I'm talking about the anniversary of starting Shakespeare Geek — June 9, 2005.    (Man has the quality of my posts gone up since then!  I hope.)
That means I've been doing this for 13 years.  Not quite older than my kids, but old enough that none of them have ever known a time when I didn't have the site.
We've also published over three thousand posts (3240 to be precise) and almost eight thousand comments (7846).  It's been a heck of a ride.  Things have definitely changed over the years.  I don't publish now as much as I used to (I remember once realizing I'd been averaging nearly two posts *per day*), and the conversation in the comments isn't the same as it once was, taking place instead on Twitter and Facebook.  Even calling the site a "blog" nowadays makes it sound like a throwback to 2005.  I just call it my site.
Thank you to all my loyal readers and contributors over the years!  Fear not, I'm not going anywhere until Shakespeare does.