In tribute to Stan Lee I was really hoping the word Excelsior appeared somewhere in Shakespeare's work, but I could not find it.
However, about a month ago I did ask which Shakespeare stories would have made good superhero stories, and got many responses.  So I thought I'd gather them all together in one place, so that it will come back up as a "Best Of" over the years and we can appreciate the man all over again.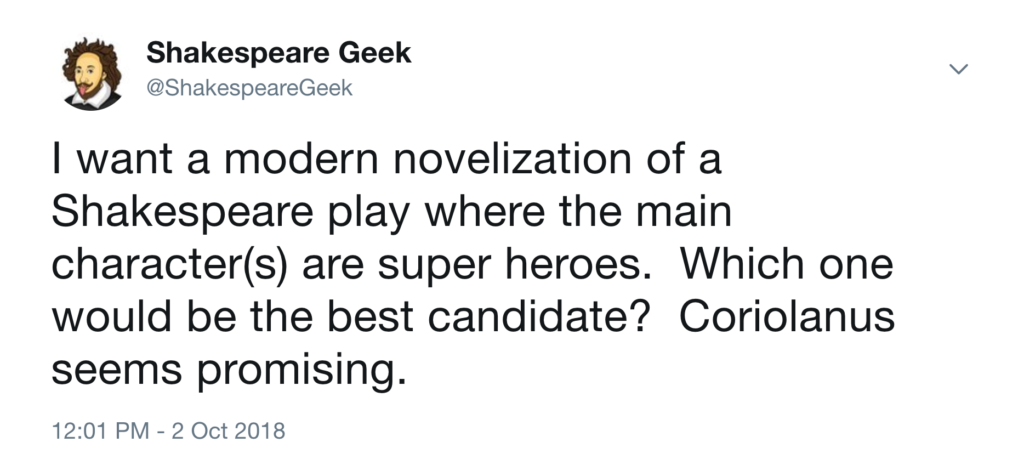 Link to the original tweet.
Hamlet is mentioned twice, as the "brooding" "superhero of doubt".
Troilus and Cressida is also mentioned twice since most of the characters are mythical heroes in the first place.
Coriolanus is mentioned three times, but since I said it the first time maybe I skewed the results.  "He's Captain America for Rome."
Surprisingly (to me), Titus Andronicus showed up three times as well, for being a "hyper-violent edgy 80s comic gorefest."
Alongside Coriolanus in the "Wait, I didn't read that one in high school!" category, Cymbeline and Pericles also received a vote 😉 Pericles actually got two.
In total twelve different plays were suggested, which goes to show that the potential for a superhero story is all in the mind of the reader.   Imagination is everything.
If anybody needs me I'll be waiting patiently for the next Avengers movie, hoping for a Stan Lee cameo, so I can cheer my head off. Excelsior!
This month's posts are sponsored by No Shave November. To help raise cancer prevention awareness, and some money along the way, all proceeds from this month's advertising, merchandise and book sales are being donated.  If you'd like to support the site by supporting the cause, please consider visiting my personal fundraising page linked above, where you can make a direct donation.