I've been waiting years for my kids to reach the point in school where we can actually talk about Shakespeare because it's their homework. My oldest is now reading The Tempest.  So I get to have conversations like this:
Her:  "We did get to read in class today. So, that was fun."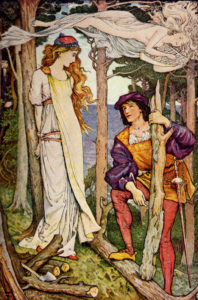 Me: "And did you get a chance to actually stand up and maybe put a little something into it? Or was everybody just heads down blah blah blah'ing their way through it with no changing their delivery at all?"
Her:  "I did my best.  But, I have a question.  There's a word…abhor something? Abhorred?"
Me: "Abhorrent, maybe?"
Her: "No, I'm pretty sure it was abhorred.  How many syllables is that?"
Me: "Sounds like two, but I'd have to look."
Her: "That's what I thought, because if it was three, then the line doesn't come out right."
…and it was at that point that I realized that while I'm just happy that she gets to read the words out loud, she went ahead and jumped to seeking out the iambic pentameter and trying to "respect the verse".  Can you stand it? So proud I could burst at times like that.
She then went on to tell me that she was annoyed by how some lines started with a capital letter, reminding me that we've still got so much to talk about 🙂
For the curious, here's the speech:
PROSPERO
This blue-eyed hag was hither brought with child
And here was left by the sailors. Thou, my slave,
As thou report'st thyself, wast then her servant;
And, for thou wast a spirit too delicate
To act her earthy and abhorr'd commands,
Refusing her grand hests, she did confine thee,
By help of her more potent ministers
And in her most unmitigable rage,
Into a cloven pine; within which rift
Imprison'd thou didst painfully remain
A dozen years; within which space she died
And left thee there; where thou didst vent thy groans
As fast as mill-wheels strike. Then was this island–
Save for the son that she did litter here,
A freckled whelp hag-born–not honour'd with
A human shape.
This month's posts are sponsored by No Shave November. To help raise cancer prevention awareness, and some money along the way, all proceeds from this month's advertising, merchandise and book sales are being donated.  If you'd like to support the site by supporting the cause, please consider visiting my personal fundraising page linked above, where you can make a direct donation.