By the time you read this, I'll be on a plane to London. From there we're going straight to Stratford Upon Avon, Shakespeare's birthplace and a town I'm still not sure I'm spelling properly, and my life will be forever changed.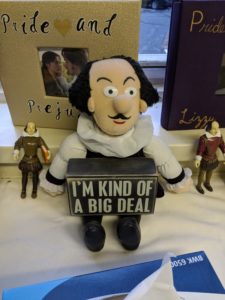 For years people have asked me whether I've been to Stratford, and the answer has always been no.  Once I knew that I would be going I started wondering how to change my answer, because it's hardly sufficient to say, "Not yet, but I'm going in August."
The more time passed, the more I inflated the idea in my head as something I'd likely never do.  At times I likened it to a religious pilgrimage, then I decided that was a bit sacrilegious to folks so I stopped saying that. But it doesn't change the fact that I didn't expect to ever go there. My wife had been to London shortly before we got married, and it didn't seem fair, with the big world we live in, to say "Hey, I want you to go back to someplace you've already been, just for me."  I don't really work like that.  Worse, all I could think for myself was "I will want to spend every waking moment doing Shakespeare things, and that would be boring for them, so then I would deliberately cut back on the Shakespeare, but then I wouldn't get out of the trip what I'd built up in my head…." and on and on and on.
Until one day the family got together and said, "We want to take you to see Shakespeare's birthplace."
That was probably a year ago. And here we are! Hours to go before I'm on a plane. Last night the kids asked me what I was looking forward to the most.  I said, "Checking it off the list."  They said, "Wow, that's a disappointing answer."
I said, "Let me put it another way.  Up to this point in my life I can say – have to say – No, I've never been to Stratford.  After this trip?  I will be able to say I have.  This is a defining moment in my life."
I can't wait.  See you all soon!
-SG