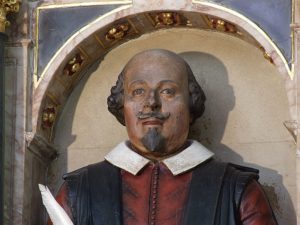 It's now one week until my trip to Stratford Upon Avon!  Lodgings locations, travel there (from landing in London) arranged.  We've got our "Full Story" tickets to the Shakespeare Birthplace Trust, which gets us into:
the birthplace
New Place
Hall's Croft
Anne Hathaway's Cottage
Mary Arden's Farm
Additionally, here's what I know we have to see (but I know nothing about their relative location to each other, whether they need tickets in advance, or what have you):
Must have a meal at the Dirty Duck
The school, of course.
The church / grave, of course
Does anybody know that "The Creaky Cauldron" is?  I don't think it's a Shakespeare thing but it seemed like something my kids might like, to break up the Shakespeare.
Alas we will not be seeing a show at the RSC.  A family member actually gave us tickets to a show at the Globe (when we go to London the next week) and I could not justify the cost/time of making my family sit through two lengthy Shakespeare shows.
If anybody's got last minute tips I'm all ears!  Looking for any local knowledge about how far things are apart from each other (we've arranged no special transportation so I'm hoping everything's a reasonable walk), what we might need tickets for in advance, what times of day might be better for some things than others, that sort of thing.  I've been waiting my whole life for this trip so anything and everything that makes it awesome, I'm interested!
Question!  How exactly does one hire a car? Say we did want to go somewhere just outside of town.  I hear Kenilworth Castle is nice.  Or Warwick? What's my best way to get my family there?
Can't wait!