Of all the things on our list to do, the most random was one I discovered on my own. Apparently Sir Ian McKellen owns a pub called The Grapes. And sometimes he's even there.  I told my kids about this.  What I actually told my kids was, "Ok, I don't expect there's any version of our story that results in me meeting Ian McKellen. I'm just saying that, if we do? I will fangirl so hard you will forget you know me. I will scream like I'm watching the Beatles on Ed Sullivan."  They don't really get that last reference, but the point is valid.
London's a big city, and we've got lots to see. The idea of saying to my family, "Hey, after Buckingham Palace, how about we go find this random pub that may or may not be huge?" just doesn't seem to ever come up.  At night, though, I get on Google Maps and I look to see where it is.  It's a bit of a hike from "stuff".  I see no obvious "Hey, while we're in the neighborhood, oh look at this place!" opportunity.
Until we take our boat ride on the Thames, and the tour guide actually brings up The Grapes as one of the tourist attractions.  We can't see it from our trip, but it's in everybody's mind now.  The next day when we're at the Tower of London I bring it up on my phone and it *looks* close, but not really close enough that we want to go on an adventure.  But that night I do figure out the nearest tube (subway) stop, so I have that info. Google tells me that it's 8 minutes from that stop.
Long story short the kids convince my wife that we should go for it, because despite not being a "real" tourist attraction, this is the kind of thing I came here to see.  So they green light the adventure and we're off.  We get off at our stop, immediately have no idea where to go next, ask somebody.  He shows us a map that shows our destination outside the "15 minute walk" window and tells us it's more like 20 minutes, and that we should take the bus. We have not had luck with busses so far so I suggest we walk.
We walk outside and immediately forget everything the guy told us.  I've long said that my achilles' heel is "directions while in a building."  People say things like, "Ok, you're gonna go out here and you're gonna take a left" and I'm already lost, because I go outside and there's a whole central square outside and at least half a dozen possible answers to "take a left".
We ask a policeman who says, "Oh, Ian McKellen's place?" he's the first person that knows it.  Tells us that it's at least a half hour walk.  That number keeps going up.  We're convinced now to take the bus. But he also tells us that Sir Ian is there frequently, and that he himself (the officer) had walked in to get a drink and had that, "Wait, did Gandalf just pour my beer?" moment.  Says he's got Gandalf's staff up in a case over the bar.
We get on the bus we've been told.  You know what else you're supposed to know other than the bus number? The direction.  After a few stops I get it into my head that we are going the wrong way.  So we get off, cross the street, intend to get on a bus the other way.  We ask the driver if this one will be going where we're going. He says he's never heard of it – the place, or the street. Great.  I'm showing him a map.  He says to try a different bus.
We get on a different bus.  Again, a few stops in, conversation with another rider, we're told we're going the wrong way. Again, I try to ask the driver, driver has no idea what we're looking for.  Keep in mind that every time we get on and off the bus it's taking money off our "oyster cards", I have no idea when they're going to run out, with no way to refill them in the middle of nowhere, and we're lost.  Flag down a taxi? They don't always take credit, and I don't know how much cash it'd be to get back home. Uber? My international data connection is far from stable enough to rely on that.
Of course, ou know what family's do in situations like this. We're hungry, we're tired, we're lost.  So we're fighting.  Do we keep going? Do we go home? How do we even begin to do either? It's not a good day.  I've long since given up the possibility of finding the place, because even if we do find it, unless Gandalf himself comes out to greet us, I doubt it's going to live up to the effort we're putting in.  It's been a few hours now.
A bus driver has suggested to us that we're walking distance to a police station, so we start walking that way.  We walk past an Indian restaurant where a man has come out for a smoke, so we give it on last try.  "Two minutes down this road," he says, walking around the corner of his restaurant.  "Sir Ian's place."  Gives us very specific directions, walk past the green building, etc…  Really? We were that close the whole time? Amazing.  Still don't know how we'll get home, but at least we've achieved our goal.
We're walking our last mile (so to speak), and I think the whole fam is still thinking "yeah, sure" but as we pass all the milestones the guy told us I'm thinking this has to be it, this has to be it.  And lo and behold, look at the sign I see?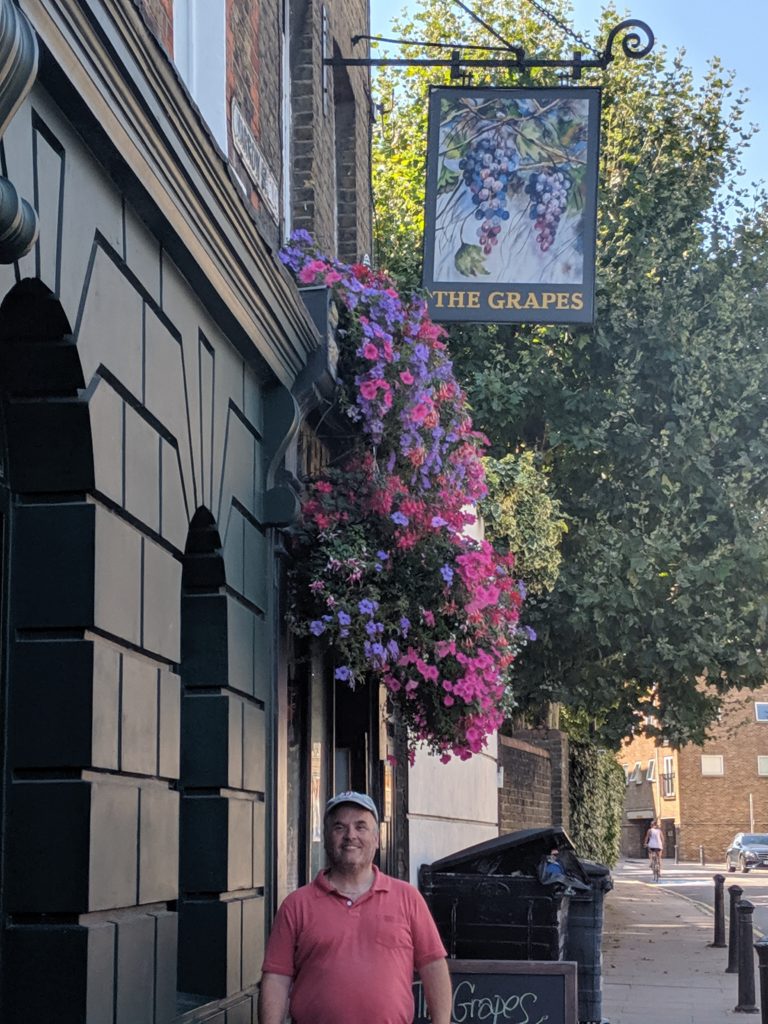 It's smaller than I expected. I think I thought it was its own building.  But that doesn't matter.  After taking our pictures I head for the door – but first cope out the ubiquitous posted menu, to plan ahead for what kind of food my kids will eat. It is 3pm.
A sign on the other side of the menu says "Absolutely no under 18s."  I almost die, but I go into denial instead and figure that perhaps that's a "at night when it's a bar" thing.
"Kitchen's closed," says a man standing outside smoking.
I wish I had a better ending for the story.  I have a few moments of disbelief, most of the "My wife is gonna kill me" variety.  The man is quite nice, suggesting other places we might try.  We tell him that we're American tourists who really came all this way specifically to see this place.  He tells us that "Ian's out filming" anyway.  We end up walking all the way back to the tube station (which, after the variety of "bus going in the wrong direction" missteps, wasn't all that far away) and having dinner back in more familiar ground.  Never even went in. I kind of wish I at least went in, to see the inside.  I wonder if the dude was lying, like some sort of gatekeeper, and Sir Ian was there at the bar.  I know of course he wasn't, but you never know, you know?  I was just so dejected, the last thing I wanted to do was walk in, looking like a fool who wasn't going to stay for a drink or get any food, seeing nothing even remotely resembling "this is a place where you want to take pictures of stuff."
On Instagram and Facebook some followers were saying, "That's my local place!" and "Ian is always there."  I said, "Next time you see him, tell him Shakespeare Geek was looking for him!"