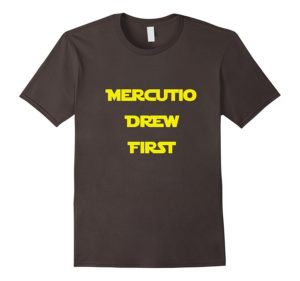 There's a simple question. How old is Romeo? Sure, we all know that Juliet is 13, the Nurse comes right out and tells us. And often I think that we then make the leap and assume that Romeo is 13 as well.
But that's hardly true, is it? Would that imply that Mercutio, Tybalt and Paris are also all about 13? Surely it was the case that men simply chose younger wives (Capulet is much older than his wife, is he not?), and actually we can assume that Romeo and the others are what, maybe late teens, early 20's?
It wouldn't stage well these days to point out that age difference, of course. I can just imagine R&J being closed down because it promotes pedophilia or something. But honestly I'm cool with it (the age difference, not the pedophilia!)  The more I read the play, the more I appreciate that Juliet is the most mature person in it. That she's 13, surrounded by people generations older than her, is quite impressive. I don't need to make her older to justify anything, and I don't need to make Romeo younger to get it to balance out.
Romeo can be older and still be rash and impetuous. Juliet can be young and be the smart one. Better than trying to imagine 13yr old Tybalt saying, "I hate the word as I hate Hell…."
Update!
While looking at the trivia for Luhrman's movie, I learned something interesting. Apparently Natalie Portman auditioned for the role of Juliet. But because of her small frame, in her words, "Leonardo looked like he was molesting me."  The director said the same thing I said above, only backwards — "Leonardo was 21, but could look 18 – and she made him look 21." In other words he looked too old, not that she looked too young.  So that certainly backs up the idea that you have to cast R&J of roughly equivalent ages to avoid squicking out your audience.